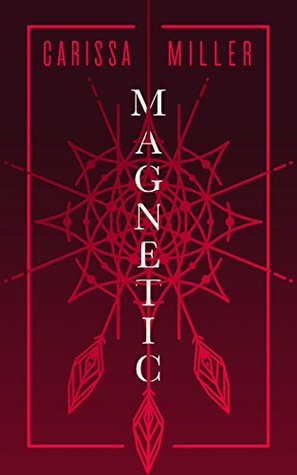 Book info:
Title: Magnetic
Author: Carissa Miller
Publication date: September 10th, 2017
Genres: Contemporary, Young Adult
Synopsis:
When Elle Christiansen's rebellion leads to her father's expulsion from a parsonage in small-town Ohio, the forlorn pair is forced to move to Oklahoma to live with an aunt neither of them has ever met. Here she encounters her aunt's neighbor—Maverick Mason, the quietly confident son of a wealthy oil tycoon who infuriates her as much as he inexplicably draws her in…
Maverick slowly gains Elle's trust and coaxes her out from the seemingly impenetrable walls of self-protection she erected around her heart when her mother was murdered. He convinces Elle to confide the secrets of her tortured past: that she saw her mother's murder before it took place, and she was the one who found her, bleeding to death at the end of a lonely dirt road. Together the unlikely pair begins to unlock the secrets of not only Elle's sordid past, but her mother's and grandmother's as well, to uncover decades of greed, corporate corruption, lies, and murder. Quickly, the sobering realization hits: if they do not solve her mother's murder, Elle will undoubtedly suffer the same fate. As she continues her journey toward truth alongside the boy she is magnetically drawn to in a way both frightening and uncontrollable, Elle finds the road she is most afraid of going down—that one lane dirt road where her mother was murdered—just might be the only place she can truly find redemption.
Magnetic tells of the enduring pain of living with unsolved violent crime. Inspired by debut author Carissa Miller's true-life events, it's a haunting account of a young girl's struggle in the aftermath of shattering loss. With an unraveling love story, puzzling mystery, unexpected twists and turns, and a gripping pace that will keep you turning pages, our heroine takes you on her journey as she learns one of life's great lessons: facing your fears instead of running from them, is the only way to truly find freedom.
My rating: 4 stars
I will just say that I burned through this book in no time. It was a very edge of your seat, need to know what is happening next, type of story. I like how a part of the story tied in a historical aspect that is currently in a bestselling book, about how Native Americans were murdered because of having oil or other resources on their land. While I kind of figured out why the rich guy didn't want his son dating the Native American girl, the main character's mother, there was even another twist at the end that I didn't see coming. And I really love when I book can give me the clues to figure out the mystery, but not all of them, because I love to be surprised. While there were some things about the main character that were a little extreme, and almost felt a little rushed or not completely necessary, her blackouts when she gets upset, they did fit into the story okay. And then Maverick had his own issues, and those also felt a little added on, not quite as developed as I would have liked them to be. But overall, there was a lot of good character development, and I was definitely invested in knowing how all the secrets and mysteries would wrap up.
I will probably look to see if I am able to order this to make available in the school library where I work for my students to read. I believe the historical aspect is one that fits perfectly into adding diversified stories to our collection. A great debut story.
Author Bio:

Carissa Miller writes a lifestyle and design blog called CC and Mike, where she and her husband blog about their experiences designing, building, and flipping houses in the Midwest. She was inspired to write her debut novel–Magnetic—because of her firsthand experience living with the trauma of an unsolved violent crime, her mother's attempted murder. When she's not writing, blogging, or designing, Carissa loves Oklahoma summers on the lake with her husband and three children, going to Oklahoma State sporting events and cheering on the Cowboys, and traveling cross country with her family in the RV she and her husband renovated. Carissa laughs loudly, loves with her whole heart, tells it how it is to a fault, and enjoys living life to the fullest, every moment of every day.
You can follow along with Carissa and her family on Instagram – ccandmikecreative, Facebook – CC and Mike, Pinterest – CC and Mike, Twitter, or by subscribing to their blog – http://www.ccandmike.com/.
GIVEAWAY!