New from Gena Showalter, author of the New York Times bestselling The White Rabbit Chronicles, comes a series finale that will keep you on the edge of your seat rooting for the characters until the very last page. Don't miss the EPIC CONCLUSION to the Everlife novels, a series fans calls "vividly unique," "unforgettable" and "exhilarating." Grab your copy today!
EVERLIFE Synopsis:
STAND TOGETHER OR FALL ALONE.
THE FATE OF THE EVERLIFE HANGS IN THE BALANCE.
At seventeen years old, Tenley "Ten" Lockwood needed to make the ultimate choice—where to live after she died. Loyalty to her selected realm has not wavered…until now. The numbers-obsessed Conduit is out of time. Sacrifices must be made, and a terrible price must be paid. But is she too late?
As the Everlife descends into darkness, a single truth becomes clear: Troika and Myriad must unite in the end—or perish. As a way to bring sworn enemies together, Ten must enter forbidden territory…and destroy the powerful Prince of Ravens. But there's only one way inside—bonding with Killian Flynn, a deadly rival Laborer who sets her blood aflame.
When nothing goes as planned and betrayal results in the edge of utter defeat, Ten and Killian must rebuild agree with from the ashes in their hearts. Victory seems not possible; the odds stacked against them. In spite of everything, how far will they be willing to go for the sake in their realms and the Everlife?
Get your copy of EVERLIFE here!
"Utterly unique and absolutely riveting—I couldn't put it down! What a marvelously cool world." —Sarah J. Maas, New York Times bestselling author, on Firstlife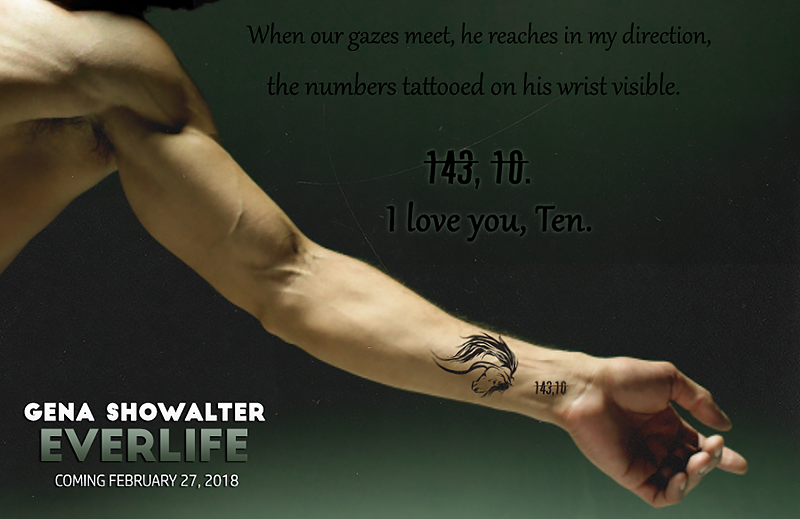 EXCERPT:
The identity of our intruders clicks. Two Troikan Generals: Shamus Campbell and Luciana Rossi. Behind them, four La­borers I've never met. A total of six invaders.
6: symbolizes beauty and high ideals. The sixth sense: ESP. The sixth astrological sign in the Zodiac: Virgo.
Focus! A soft pitter-patter of footfalls echoes outside the cave. More TLs?
Killian isn't safe.
Panic claws its way up the ridges of my spine, and my blood f lash-freezes. I strain with all my might, desperate to move, but my body refuses to cooperate. Every attempt to raise my arms threatens to pop my shoulders out of joint. I don't care. Nothing will halt my efforts.
"Kill, kill." Between each command—desire?—Killian snarls like a wounded animal. "Kill!"
Shamus, a big, barrel-chested redhead with pale skin and countless freckles, slams a fist against his armor-clad chest to gain my attention. His dark eyes are narrowed, a muscle jumping in his jaw. "What did you do, Miss Lockwood? And do no' tell me nothin'." His accent is similar to Killian's.
Luciana, a slender brunette with lovely brown skin and startling gray irises, backs away from me, horror contorting her expression. "I'll tell you what she did. She doomed us all."
Doomed…
Is she right? She can't be. She just can't.
I look down at Killian. My new husband is pulling at hanks of his hair.
Hopes, falling from the highest of highs to the lowest of lows.
"Out," Shamus snarls at the TLs. "Now."
All four soldiers rush from the cave without protest.
I stiffen. The General has evened the odds. Two against two. A foolish move for a war-seasoned veteran. Unless he got rid of any witnesses…
Willing to use my body as a shield, I push through the pain—snap. My shoulder does pop out of joint. Or maybe back into joint. Air wheezes from my lungs. Worth it! Finally, I can move. I crawl toward Killian, every inch I gain only adding fuel to an already blazing fire of agony.
Can't stop. No, won't stop. Determination drives me. I only wish it gave me wings.
"Kill. Must kill." Killian is lost in a world of his own.
"You won't be killing anyone, you son of a Myriad troll." With a hand curled around the hilt of a sword, Shamus stalks toward him.
"Stop! He doesn't know what he's saying right now." My voice is barely audible, my gaze locked on my love. So close, yet so far away. Desperation slams a spike straight through my heart.
Any other day, I would have used the comm built into the forearm of spirit and Shell. With the press of a few buttons, it could transport me to Killian's side and, as long as some part of me is touching some part of him, whisk us both somewhere else. Somewhere safe. Like a fool, I disabled the device to hide from fellow Troikans while meeting with Killian.
I should have known they'd find me one way or another.
"Stop," I repeat, even as I gain another inch. "That's an order." As a Conduit, I outrank the Generals. As a newbie to the Everlife, however, my exalted rank doesn't really mean squat.
"We can't hurt him," Luciana grates. She extends her arm, stopping Shamus in his tracks. "You've effectively tied our hands, Miss Lockwood."
Though the shadows are no longer slithering through my mind, I'm not exactly thinking straight. I struggle to make sense of her words, finally throw in the towel. "I don't understand."
"You bonded to him, did you not?" She spits the words, as if they taste foul in her mouth. "That bond forces us to spare Myriad's favorite butcher and watch as you, one of only two Conduits, slowly descends into madness."
My Review:
My rating: 5 stars
This was the perfect conclusion to an epic trilogy. Each book has totally blown me away, and this one was no different! I got started a little late, due to some issues I had with downloading the e-galley, but once I did, I was hooked. It started off with some of the familiar memos between people that we've seen throughout the other books. And then we were pretty much where book 2 left off, Ten and Killian choosing to pledge their lives to each other, to form a bond that would hopefully be the first step towards peace between Myriad and Troika.
If you've followed my reviews of the two books so far, especially the 2nd one, you'll know that I adored Killian, and the beginning with him and Ten had me right back in love. Until they bond and everything changes. Killian and Ten are affected immediately. Ten now has to deal with the shadows that come through their bond, the shadows that threaten her light and her Troikian way of thinking and doing. But really Killian is the one who gets the short end of the deal. He doesn't remember anything about their relationship. In fact, the first thing he wants to do right after is kill her. His memories are gone, at least all that pertain to falling in love with Ten and their plan to save both of their worlds.
So, while they must fight now against their own sides who are either not happy with the bond, or want to use it to destroy the other realm, what I loved best about the story is that we get to see Killian fall in love with Ten all over again. Seeing him work through his hatred for all things Troikian, as well as overcoming the many, many betrayals he's suffered throughout his First and Second Lives. Finding that love overcomes all, that's something Killian must discover and accept, and something that Ten must fight to continue to believe, even over all of the shadows that overtake her, and the bad things that happen to her.
I want so badly to write a beautiful review for this beautiful book. But alas, I didn't finish reading until about 3 am this morning, and my review needed to be posted before noon today. Without getting too spoilery, I will say that the way things worked out, the solution to it all, reminded me quite a bit of The Lion, The Witch, and the Wardrobe, which was a book I loved and read over and over when I was a kid.
Oh, not only did I love Killian, as expected, but Biscuit! And Beast! You'll have to read to find out who they are. And then, we get back a beloved character from before that we thought was gone, and that was so wonderful as well. I enjoyed all of Ten's numbers and her poems as usual. One other fun fact, is that Ten mentions a quote from one of my other favorite series, The Arcana Chronicles by Kresley Cole. I really just fangirl myself when it seems an author is giving shout outs to other authors and their awesome books. Also, we get a tour of Myriad in this book, making me realize we didn't ever know exactly what it was like, and wow, it was so bizarre!
I guess to wrap this all up, if you haven't started this series, go get it now! If you are ready for this book, get your hands on it as soon as you can, to find out how things will go down, and immerse yourself in the beautiful worlds Showalter has created.

And don't miss the first two titles in this stunning series, FIRSTLIFE and LIFEBLOOD! Grab your copies today!
(You can check out my reviews of the first two books by clicking on their titles in the paragraph above.)
ORDER EVERLIFE AND GET A FIRSTLIFE POSTER!
Order* a digital or print edition of EVERLIFE by Gena Showalter and get a FIRSTLIFE poster in .pdf format from Gena! Each entry* will also be entered for the chance to win a Grand Prize! Grand Prize consists of a signed copy of FIRSTLIFE and LIFEBLOOD, Betsey Johnson purse, Rebecca Monroe Bear cap, and Sparkling Zebra necklace!
EVERLIFE is now available in print and eBook!
Just CLICK HERE, scroll down, and then enter your name, age, email address, and the order number from your digital or print edition order receipt to receive your FIRSTLIFE poster in .pdf format! All entrants will receive the FIRSTLIFE poster in .pdf format on March 4, 2018 through email using the email given when the entrant filled out THIS FORM.
iBooks entries should be screenshot and uploaded or the entrant will have to wait until they receive their confirmation email to fill out the form.
**This opportunity will stay available for readers to enter through 11:59pm EST on March 3, 2018 in order to allow everyone a chance to enter. See Official Rules for details.**
*Alternate method of entry available. No purchase necessary to enter to win. See Official Rules for details.
About the Author: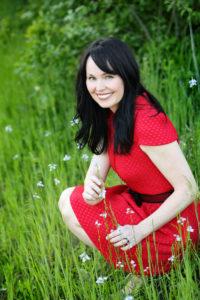 Gena Showalter is the
New York Times
and
USA TODAY
bestselling author of the spellbinding
Lords of the Underworld
and
Angels of the Dark
series, two young adult series–
Everlife
and the
White Rabbit Chronicles
–and the highly addictive
Original Heartbreakers
series. In addition to being a National Reader's Choice and two time RITA nominee, her romance novels have appeared in
Cosmopolitan
(Red Hot Read) and
Seventeen
magazine, she's appeared on
Nightline
and been mentioned in
Orange is the New Black
–if you ask her about it, she'll talk for hours…hours! Her books have been translated in multiple languages.
She's hard at work on her next novel, a tale featuring an alpha male with a dark side and the strong woman who brings him to his knees. You can learn more about Gena, her menagerie of rescue dogs, and all her upcoming books at
genashowalter.com
or
Facebook.com/genashowalterfans