Well, let's just say I didn't do that great on my challenges. 🙁 At least not with the lists I posted in my sign up link last December, HERE.
Let's recount my failures: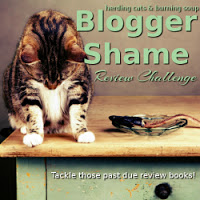 The four books I listed were Lair of Dreams, Places No One Knows, and Stealing Snow. All are still waiting to be read.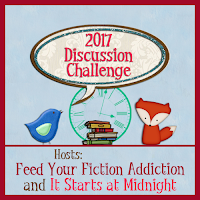 Okay, this one I actually met my goal of four discussion posts for the year. Here are links to them if you'd like to check them out:
So, for this one, I got a few of the ones I'd planned done:

The Countdown by Kimberly Derting, Sentinel by Jennifer L. Armentrout, and Ashes by Laurie Halse Anderson were all reviewed HERE.

Fire and Ash by Jonathan Maberry I reviewed HERE.

None of the other series ending books I read were on my original list, but I did get others finished:

Returned by Kimberley Griffiths Little, Buns by Alice Clayton, Salvaged by Jay Crownover, The Sacrifice of Sunshine Girl by Paige McKenzie, The Keep of Ages by Caragh M. O'Brien, Shadow by Colleen Oakes, Wild by Sophie Jordan, and that is really all I can count. The other series enders I read are actually series I just started in 2017, so I don't count them. So I missed my goal of 12 by 1.

I only got 3 of the 12 books on my list done for this, and they're all mentioned above: The Countdown by Kimberly Derting, Fire and Ash by Jonathan Maberry, and Tease by Sophie Jordan. Another fail.




Okay, of my three blogging resolutions, I completed one, sort of completed the second one, and didn't do the third one, or keep track of it anyway. I made sure to label the titles of all the posts with "Review" or "Discussion", etc. I got images created for my stars, but haven't started using them. Here is one:

I really need to start using them! The third one that I didn't complete, or at least didn't keep track of to know if I even got close, was to comment on 7 different blogs every week. I did do a lot more commenting this year, though, so I am glad I did do some of it.




My writing goals didn't go much better. I didn't finish either of my NaNoWriMo stories that I'd started. And when I tried to do the short stories, I got caught up in the very first story. Now, I've added to that one, and even got it started posting on Wattpad, but I need to finish a story! So failed, for the most part. I did get a lot of writing time in for the year, even though I lost my writing partner, when I lost that friend who didn't like one of my reviews of her books. I did pick up a new writing partner though, and have recently found some possible new partners or a group even on Facebook.

I'm still debating about what challenges I'm going to sign up for in 2018. I need to change the way I do some things on my blog. I want more time to write, and want to keep to no more than one post a day, whenever possible. I have to quit signing up for tons of blog tours, as one of my discussion posts talked about. I also am still trying to decide how high to set my Goodreads reading challenge. I always try to increase my goal each year. This year they started allowing you to post that you'd read a book more than once, so a few of my reads this year were re-reads, but I did go over my goal of 250. I'm thinking to set my goal right where it is again for next year. We'll see. Expect a post on all that kind of stuff probably on the 1st or 2nd.

So, how did you do on your challenges in 2017? How are you planning to challenge yourself in 2018?