Unless I do a bunch of reviews tonight and tomorrow night, pretty sure I'll have a few books carrying over till next year. But in order to make that a bit smaller number, I'm going to do another post of mini-reviews today. I've grouped all of the books that are not YA or audio together for this post. Check them out.
Torn (A Wicked Trilogy #2) by Jennifer L. Armentrout: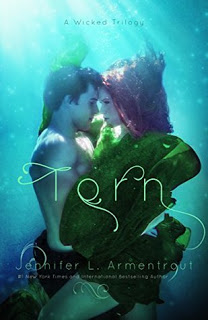 Published: July 19th, 2016
Source: Purchased paperback
Genre: New Adult romantic fantasy
My rating: 5 stars
As always, JLA's stories are ones I fall in love with and burn through as quickly as possible. This one left me definitely hanging for the third book, now out, which I'll need to get my hands on soon! I'd loved Tink in the first book, and then the surprise we got with him in this book was NOT what I saw coming. Still totally in love with Ren after reading, and I knew at the one point that there was something off about him, and I was glad that I was right when it showed what that was. Another fun part of this was that now that I've been to NOLA and walked around a lot, it was fun to read about the city and have a pretty good idea what and where they were talking about, except for the fantastical settings of course. And the Fae Prince of course, creepy as could be! Finding out more about her friend who betrayed her, as well as other family and other history secrets, only led me to need to read on as soon as I can! You can read my review of the first book in the series, Wicked, HERE.
Here is the synopsis from Goodreads:
Torn between duty and survival, nothing can be the same.

Everything Ivy Morgan thought she knew has been turned on its head. After being betrayed and then nearly killed by the Prince of the Fae, she's left bruised and devastated—and with an earth-shattering secret that she must keep at all costs. And if the Order finds out her secret, they'll kill her.

Then there's Ren Owens, the sexy, tattooed Elite member of the Order who has been sharing Ivy's bed and claiming her heart. Their chemistry is smoking hot, but Ivy knows that Ren has always valued his duty to the Order above all else—he could never touch her if he knew the truth. That is, if he let her live at all. Yet how can she live with herself if she lies to him?

But as the Fae Prince begins to close in, intent on permanently opening the gates to the Otherworld, Ivy is running out of options. If she doesn't figure out who she can trust—and fast—it's not only her heart that will be torn apart, but civilization itself.
Royally Bad (Bad Boy Royals #1) by Nora Flite:
Published: April 1st, 2017
Source: Free e-book
Genre: Adult mafia romance
My rating: 5 stars
This was my 2nd book by this author, and I ended up really enjoying it. Even though I'm not usually a fan of mafia romances, I enjoyed the characters and story-line enough in this one that it was a good one. It was one that was hard to put down whenever I picked it up. I loved the snarky comments that Sammy would say to Kain, totally reminded me of things I would say. And it was so cute that he liked her saying those things to him. Probably why I liked this so much, I want a guy to like me for all my snarkiness. I look forward to reading more in the series and seeing how things work out for other members of the family, even though, as I said, normally I'd skip other mafia romances. This is why I like finding free ebooks. If I love the story, then it will convince me to buy the others from that same author.
Here is the synopsis from Goodreads:
Getting close to an arrogant bad boy like him is dangerous. Too bad it's her only choice.
Kain Badd looks great on paper: rich, handsome, and he's even a prince. But after spending a few minutes together, Sammy sees the real him—arrogant, possessive, and too hot for his own good. If she hadn't agreed to help plan his sister's wedding, she could have avoided him. Instead, she's waking up in his bed after an unforgettable night she definitely wants to forget. But he won't let her.
When Sammy thinks her life can't get any crazier, the wedding is raided by the police, and she spends her first-ever night in jail. The irresistible Kain isn't just bad in name—his family is connected to a dangerous underworld. Now she's mixed up in a power struggle between his family's empire and their rivals. She has no choice but to put herself back in this filthy prince's extremely capable hands.
Sammy must trust Kain to keep her safe. She's just not sure she can trust herself to resist temptation.
That One Moment (Lost in London #2, London Lovers #5) by Amy Daws: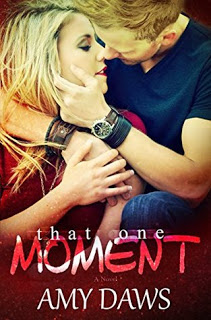 Published: April 12th, 2016
Source: Purchased e-book
Genre: Adult romance
My rating: 5 stars
Amy Daws is another author that I pretty much am going to almost always give a 5 star rating to. All of her books have so much romance and emotion, and again, the humor that I love so much in a romance, or any story to be honest. This one totally got me because Hayden had his niece to help him whenever he felt suicidal, she was his reason to live at times, and there have been times when I've thought that way about my own niece when I get to where I feel like things are not worth going on for. And then, well, I kind of read out of order, because I read and loved the books about all the Harris brothers, Challenge, Endurance, and Keeper, and wanted to know Vi's story, but didn't realize this was her book, and that I needed to read it. It was fun to read after I'd read the others though, because I really could enjoy her brothers this way as they appeared in Vi's story. And of course I'd been eager for Hayden's story too, after I'd read the book before this, Not the One, where he'd had his suicide attempt. I wanted to see him get his HEA. If you haven't tried an Amy Daws book yet, you need to!
Here is the synopsis from Goodreads:
That One Moment is a full length standalone romance, it's book 2 in the Lost in London Series and can be read as a standalone.

Life is a series of reoccurring ripples in time.
The moment I saw her…something shifted.
The moment my lips touched hers…life got messy.
The moment my heart got involved…everything changed.

Vi Harris tests every bit of my strength.
She is my test.
My challenge.
At a time when I should be focusing entirely on myself, this radiant woman with a bright, cheeky smile and a cracked sense of humor waltzes in and spins everything on its axis.

Vi has the potential to make me weak at a time when I'm determined to show everyone just how bloody strong I am.
She's everything I am not…yet somehow, she sees through my darkness.
My pain.
My despair.
She doesn't see me as broken.
She sees me as the man I'm fighting so hard to be. The man that I'm still struggling to see myself.
American Prince (New Camelot Series #2) by Sierra Simone:
Published: March 7th, 2017
Source: Purchased physical copy of book
Genre: Adult erotic romance
My rating: 4 stars
Okay, so even though I "met" the author last March at the Kinky in Kansas City convention, I learned this past November that Sierra Simone is a pen name for her, or at least that she also wrote a YA series under another name, and that is how I'd met and read her writing first. So, while this type of story isn't always my favorite, I'm not really big into the BDSM, and while I'm okay with M/M, I don't always pick it to read. However the story in the first book, American Queen, left off in a way that I had to read on and find out what would happen next. In this second book we get Embry's story, his love of Maxen, and Greer, and more stories of the war that brought him together and in love with Maxen. It also leads us to find out what causes the things that happen to Greer, who is behind them, and what are their reasons for this. I will definitely have to get a copy of the final book, American King, to read and get autographed when I get to see the author again in March at the 2018 Kinky in Kansas City convention. Warning on this one, the sex is very graphic, and as I said, M/M as well as MMF and BDSM.
Here is the synopsis from Goodreads:
I've been many things. I've been a son and a stepbrother. An Army captain and a Vice President. But only with him am I a prince. His little prince. Only with Maxen and Greer does my world make sense, only between them can I find peace from the demons that haunt me. But men like me aren't made to be happy. We don't deserve it. And I should have known a love as sharp as ours could cut both ways. My name is Embry Moore and I serve at the pleasure of the President of the United States… for now. This is the story of an American Prince.
Make It Count (Bowler University #1) by Megan Erickson:
Published: July 8th, 2014
Source: Purchased physical copy of book
Genre: New Adult contemporary romance
My rating: 4 stars
So, I met this author back at Apollycon 2017, and I hadn't read any of her books yet. In fact, I didn't even read this one, until I started reading her serial Boots – now Hidden Truths, that she published a chapter a week in her e-newsletter, and I fell in love with that. So I dug this one out of my TBR pile and picked it up to read. Needless to say, it was one I could barely put down when I picked it up, but I only let myself read it before bed, or when I was taking a nice hot bubble bath, so it wasn't finished as quickly that way. While I'm not a big fan of cheating, and that did set me back a little at first, in the end, Kat belonged with Alec, and we find out that her boyfriend wasn't quite the perfect guy we'd been thinking. I will have to read on in this series to see how it goes for the other characters.
Here is the synopsis from Goodreads:
Kat Caruso wishes her brain had a return policy, or at least a complaint hotline. The defective organ is constantly distracted, terrible at statistics, and absolutely flooded with inappropriate thoughts about her boyfriend's gorgeous best friend, Alec . . . who just so happens to be her brand-new math tutor. Who knew nerds could be so hot?
Kat usually goes through tutors like she does boyfriends–both always seem to bail when they realize how hopeless she is. It's safer for her heart to keep everyone at arm's length. But Alec is always stepping just a little too close.
Alec Stone should not be fantasizing about Kat. She's adorable, unbelievably witty, and completely off-limits. He'd never stab his best friend in the back . . .
But when secrets are revealed, the lines of loyalty are blurred. To make it count, Alec must learn that messy human emotions can't be solved like a trigonometry function. And Kat has to trust that he may be the first guy to want her for who she is, and not in spite of it.
Skin Deep (Ink and Brazen Women #1) by Cassie Leigh: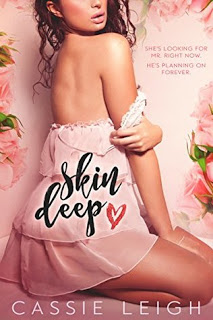 Published: September 26th, 2017
Source: E-galley for review
Genre: Adult contemporary romance
My rating: 3.5 stars
This is my first book by this author, and overall I really did like it. I had some issues with some of the way things were kind of simplified in the writing, and there were parts when it kind of skipped back and forth between the two main characters that would confuse me for a minute, that is a problem I have with third person point of view sometimes. It was a pretty sweet story though. I liked the two characters together, and it made me want another tattoo myself. I was glad to see when Gigi finally decided to take some control in her own family and help her mother that things went as well as could be expected. I was definitely disappointed in Roman when he assumed what he did. Especially since he'd looked at her messages on her phone, and should have seen Gigi's responses to the guy she had nicknamed Dick Pic in her phone. I will be reading on in the series though, hoping to have Roman's sister's story next. I also loved that Gigi loved pink, and that Roman loved that about her. A fun little detail in the story. As I love pink, but also love orange, and my family knows my love of orange and teases me about it, this definitely connected with me!
Here is the synopsis from Goodreads:
Mr. Right Now is planning on forever…
Gigi Duval doesn't do relationships, especially with her heart and career on the line. She values two things—her image and a good time in the bedroom. Watching men lie and cheat her whole life hardened her against "happily ever after". When she interviews with Roman Bishop, the sexy co-owner of Ink Spinners Tattoo, she begins to wonder if he might be more than a casual fling. Only one thing is certain: Roman is off limits. Gigi can't possibly add her best friend's brother to her little pink book. Or can she?