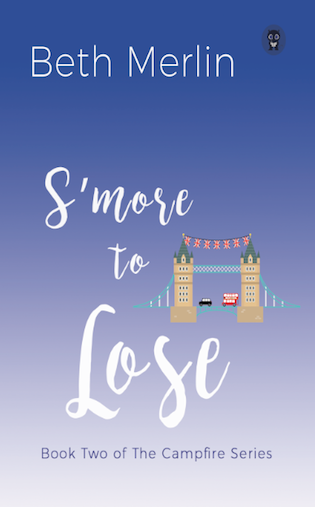 Book info:
Title: S'more to Lose
Author: Beth Merlin
Series: The Campfire Series #2
Publication date: December 5th, 2017
Genres: Adult, Contemporary
Synopsis:
Four years after her life-changing summer, Gigi Goldstein thinks saying goodbye to Camp Chinooka means saying hello to a brand new life. Now faced with a second chance at her career, she is filled with more hope than she's felt in a long time. Her design house is taking the fashion world by storm, even attracting notice of Victoria Ellicott, the fashionable British socialite who just happens to be engaged to the future king of England. When Gigi is chosen to design the royal wedding dress in London, she is forced to confront her ex-fiancé, Perry Gillman, now a successful composer with a hit show on the West End.
But when Gigi learns Perry's been dating Victoria's sister, who rivals her in looks, style and sophistication, Gigi can't help but feel inadequate in everything. Her world begins to crumble as she develops a creative block so debilitating, she fears that a wedding dress of royal proportions is never going to happen. Even a budding relationship with the handsome, wealthy, and rich Viscount of Satterley can't make her forget about Perry and her inability to get over him. As the world gears up for the wedding of the century, Gigi is on the brink of buckling under the immense pressure of the uncertainties of her future and failures of her past.
Will she be able overcome her creative paralysis to design the dress of Victoria's dreams, or will she break down now that she has even s'more to lose?


My Review:
My rating: 4.5 stars
Okay, I really did enjoy the first book, One S'more Summer, and you can read my review of that one HERE. But let me say that I devoured this book in only one day! I picked this up on a break at work on Thursday, continued reading during my lunch break, and then couldn't stop reading, had to finish before bed! It was a little easier to get into now that I know Gigi better and am past how she started off in the first book. One thing that always makes me crazy when I'm reading, but in a good way, is knowing something happened, but not knowing exactly what, and being kept wondering for quite some time. Another author who does that quite well is Samantha Young. Anyway, I had fallen in love with Perry by the end of the first book, so I was so sad that they were not together at the beginning of this one. And while I wanted to have them back together, since I wasn't sure at first what broke them up, I soon grew to love her new love interest, Gideon, and was totally rooting for him. Until, well, until he did his not listening thing and shutting her out, for the 2nd time. At that point I was a little irritated with him, and kind of rooting for Gigi and Perry to figure it out. The book ends with a bit of a cliffhanger, and definitely some bad news for Gigi and her fashion company. Definitely now I don't know how I can wait until book 3, to see if Gideon really will be the right guy, or if in the end, she will get back with Perry.
Once again I loved her best friend, Jamie, he is so funny. I was in shock that he didn't already adore Downton Abbey, but laughed at all the times he called it "Downtown Abbey" at first. I love that the show revolves around a musical written about Queen Elizabeth that is reminiscent of the current hit Hamilton. I would watch it too! I look forward to seeing how it goes once Elizabeth hits Broadway in book 3, and finding out where our couple's romance may or may not go.
I've now ordered a physical copy for myself of book 1, and will definitely be ordering a physical copy of book 2 when I get the money as well.
Author Bio:

Beth Merlin has a BA from The George Washington University where she minored in Creative Writing and a JD from New York Law School. She's a native New Yorker who loves anything Broadway, rom-coms, her daughter Hadley, and a good maxi dress. She was introduced to her husband through a friend she met at sleepaway camp and considers the eight summers she spent there to be some of the most formative of her life. One S'more Summer is Beth's debut novel.
GIVEAWAY!