Once again behind, but saved this time to post the reviews during November, since I am hoping I will be very busy writing for NaNoWriMo.  This post will combine a bunch of ebooks I've read.
In Flight (Up in the Air #1) by R.K. Lilley: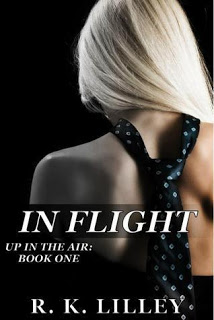 Genre:  BDSM romance
Published:  October 20th, 2012
Source:  Purchased Kindle ebook
My rating:  4 stars
This was another title I decided to read because there is a page for it in my Love Between the Lines coloring book. Which I actually haven't finished that page as of the time I am writing this post.  If I get it done before the actual post date on my blog, I'll be sure to come back and update the photo of the page below.  I wasn't sure how I'd like this.  As I've mentioned before, I'm not a big BDSM fan.  At the time I was reading this ebook, I was listening to Dirty Rowdy Thing by Christina Lauren, which has a little bit of tying up and such in it.  However I liked the way the guy treated the girl in that book better than in this book.  I made myself finish this one because of the coloring page, not to mention by the end I was definitely intrigued enough that I will go on just to know what happens to the characters.  I didn't care enough about the Fifty Shades of Grey characters, not to mention how horrible the writing was in that, so I didn't go on.  This one I will. And honestly, if you did like Fifty Shades, you should totally get ahold of this one and read it, I think it is way better, and you'll definitely enjoy the background stories going on with these characters.
Here is the synopsis from Goodreads:
When reserved flight attendant Bianca gets one look at billionaire hotel owner James Cavendish, she loses all of her hard-won composure. For a girl who can easily juggle a tray of champagne flutes at 35,000 feet in three inch heels, she finds herself shockingly weak-kneed from their first encounter. The normally unruffled Bianca can't seem to look away from his electrifying turquoise gaze. They hold a challenge, and a promise, that she finds impossible to resist, and she is a girl who is used to saying no and meaning it. 

Bianca is accustomed to dealing with supermodels and movie stars in her job as a first class flight attendant, but James Cavendish puts them all to shame in the looks department. If only it were just his looks that she found so irresistible about the intimidating man, Bianca could have ignored his attentions. But what tempts her like never before is the dominant pull he seems to have over her from the moment they meet, and the promise of pleasure, and pain, that she reads in his eyes.
Fallen Heir (The Royals #4) by Erin Watt:
Genre:  New adult romance
Published:  August 28th, 2017
Source:  E-galley from tour group for honest review
My rating:  5 stars


I am so ashamed that I actually received this, and forgot about it until shortly after the tour group sent an email about posting reviews.  And if that isn't bad enough, I didn't even get started reading it until almost the end of September.  HANGING MY HEAD IN SHAME.  I may never get the chance to read an e-galley from them again, and that is horrifying to me because as with the first three books in the Royals series, I LOVED this one!  Especially since it was about Easton, who I adored in the other books.  While his love interest, Hartley, really frustrated me at times, because I have such a soft spot for Easton, you could totally understand her side when he would do some of the things he did.  But I felt so sorry for him at many points in the book, and I really, really, really need the next book after the way this ended!  Like now.  And since I was so bad about not posting when I was supposed to, I'm going to share one of the little graphics that should have gone with a post for this.


Here is the synopsis from Goodreads:
These Royals will ruin you.

Easton Royal has it all: looks, money, intelligence. His goal in life is to have as much fun as possible. He never thinks about the consequences because he doesn't have to.

Until Hartley Wright appears, shaking up his easy life. She's the one girl who's said no, despite being attracted to him. Easton can't figure her out and that makes her all the more irresistible.

Hartley doesn't want him. She says he needs to grow up.

She might be right.

Rivals. Rules. Regrets. For the first time in Easton's life, wearing a Royal crown isn't enough. He's about to learn that the higher you start, the harder you fall.
Futures and Frosting (Chocolate Lovers #2) by Tara Sivec:
Genre:  Adult romantic comedy
Published:  September 13th, 2012
Source:  Published Kindle ebook
My rating:  5 stars
I honestly loved this book just as much as I loved the first one, Seduction and Snacks.   This is another series I began because of my coloring book, and boy was I glad I did!  The characters are so funny!  There were times in this book when I liked Carter's chapters more than I liked Claire's.  But  I totally identified with Claire, so afraid to say something that was commitment sounding that could scare away the guy.  Even though I think she was being a bit ridiculous. And then again, Gavin, that little boy is the  most hilarious kid!  I started this, and could barely put it down to sleep!  I laughed so hard sometimes that I would be gasping for breath trying to calm down after certain parts, and then, some of the incorrect things that their one friend said, like anal flaccid shock?  OMG!  Still dying thinking about that part.  Can't wait to buy the third book in the series and read on!


Here is the synopsis from Goodreads:
Carter, Claire and Gavin have formed the perfect little family. Their friends are getting married and everyone is growing up, maturing and ready to face the future. Or are they?

From bachelorette party hell, porn addictions, dinner roll baseball and botched wedding proposals to finding out everyone's extended family is chock full of crazy, Carter and Claire begin to question the strength of the ties that bind them. Unfortunately, these ties have nothing to do with fuzzy handcuffs and everything to do with the mounting differences between them. 

Will their friends make a mess of things with their inappropriate comments and need to know everything, or will they convince the couple that happily-ever-after sometimes really can start with beer pong?
Royally Raised (Royally #2.5) by Emma Chase:
Genre:  Adult romance novella
Published:  June 2nd, 2017
Source:  Free ebook download from Amazon
My rating:  3 stars
I hated rating this one so low, since I loved the first two in the series:  Royally Screwed  and Royally Matched, but it was too short!  I loved getting to be around all the characters again, but there was just too little to make it a satisfying read.  Definitely download it for free to read, but then you'll be ready to go on in the series, like I need to. 
Here is the synopsis from Goodreads:
"He's a joy to us. They all are. When they're not busy giving us migraines." ~King Henry

No one ever said raising children was easy…but raising a future monarch? That's another story all-together. Get a glimpse into the happily ever after of Wessco's irresistible royals in Royally Raised – a sweet, sexy, heartwarming short story set twenty years after Royally Matched.  
To Be His (Beauty and the Brit #1.5) by Terri L. Austin: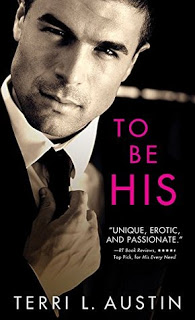 Genre:  Adult romance
Published:  August 1st, 2015
Source:  Downloaded Kindle ebook
My rating:  4 stars
This book gives us Trevor's point of view for the book His Every Need.  I liked it enough, although there were still some frustrating parts getting it this way. Still worth the read, and I'm still eager to get the third book in the series and read on. 


Here is the synopsis from Goodreads: 
A companion novella to the RT Reviewer's Choice Nominee

 

His Every Need, told from the hero's POV
I didn't amass an empire without taking risks, but I'm not a complete arse. So yes, when I offered to trade Allie Campbell three months as my mistress for her family home, it was a joke. Only thing is, she wasn't laughing…and she bloody well took me up on it.
Well, all right then; I could play that game. I figured I'd take her on, we'd have some fun, and in three months, she'd walk away with her family intact and I could get back to what I do best: making money.
But I'd made one mistake along the way. I stupidly assumed that after having her, I could walk away. I was wrong. I don't know how long this feeling-this consuming need-will last, but I'm not ready to let her go.
Not now. Not yet. Maybe not ever.
The Cornerstone (The Walshes #4) by Kate Canterbary:
Genre:  Adult romance
Published:  December 8th, 2015
Source:  Purchased Kindle ebook
My rating:  4 stars
I've really enjoyed this series, some books more than others, but this book was a little harder because of the main character was kind of off-putting, but then that is how she has been portrayed throughout the series.  You do get to know Shannon this time. And we learn that the Walsh's father was really more of a bastard than maybe you were led to believe in earlier stories. This one overlaps a little with the last book, the book that wasn't my favorite, but I'm also eager to move on and find out how more of the family finds their true love. And I have to say the sex in this one was very hot!
Here is the synopsis from Goodreads:
A tough-as-nails businesswoman. An arrogant Navy SEAL. A power struggle with no end in sight.
Some people hook-up at weddings. Others break a hotel room bed (and a table, and a desk, and some complimentary bathrobe belts) and discover they've been surviving on bargain basement orgasms their entire lives.
The last one? Yeah. That's all me.
She's driven and demanding…
I wasn't always a bitch. There's a dirty little trick to succeeding in business: the sweet and innocent rarely survive. I fought my way up from nothing, and I don't bend for anyone.
Until Will Halsted ties me to a headboard and makes me his…for now.
One wild, filthy night turns into another, and then…we can't stop. Each time we're together is more addictive than the last, but it's nothing more than a sexy escape from reality.
Or is it?
He's never walked away from a challenge…
I wasn't always a warrior but now it's in my bones and blood. That's what years spent in the Special Forces does to a man. My entire life is classified: where I've been, what I've seen, what I've done, and there's no mission too dangerous.
Until I realize that falling for Shannon Walsh is like trying to swim against a riptide. She's going to tear me up and toss me to the shore, and I'll love every minute of it.
Every time I'm down range, I want her counting the hours until I'm back. Waiting for me. She's done it before; she'll do it again.
Or will she?
They're wrong for each other in every possible way…
Or are they?