Book info: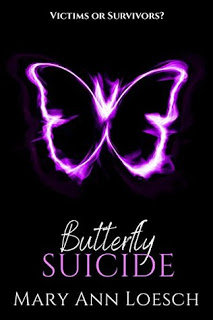 Title: Butterfly Suicide
Author: Mary Ann Loesch
Genre: YA Contemporary/Romance
Release Date: July 11th, 2017
Publisher: Independent
Source: Pump Up Your Book! Virtual Book Publicity Tours for an honest review
My rating: 5 stars
Synopsis:
Butterfly suicide.

The blood on the cafeteria floor has been washed away and the bullet
holes plastered over, but those words carved deeply into the back of the
worn auditorium chair will always be a reminder for the students of
Rockingham High School of what happened there last May. For Stephen
Valley, the brother of infamous school shooter Jude Valley, that day is
one he will never be allowed to forget—especially since the small town
blames him for the loss of the seven students killed in Jude's rampage.
Unfortunately, poverty has a firm grip on his mother's finances,
imprisoning him in the bigoted town with no options to leave.

Monica Monroe, a self proclaimed Theatre Nerd, hates being known only
as the sister of Jude Valley's murdered girlfriend, Simone. Even though
she's never believed Jude killed her sister over a lover's quarrel, she
does blames herself for not seeing what a monster he was. When she is
partnered with Stephen for an acting scene in Theatre class, Monica
views this as an opportunity to finally get some answers. Being paired
with Stephen proves to be dangerous for her emotional well being and her
heart. When he is beaten up for being on her street, Monica realizes
his life after the actions of Jude has been as traumatic as her own.

Drawn together by tragedy, the two stumble across a shattering secret
which threatens to ruin their blossoming romance and destroy their
families.
My Review:
I put this book off based on the date I had to have it read by, but once I started reading, it was another really hard to put down story. The topic itself was very emotional, a school shooting. Only in this story, the shooter was unable to kill himself, and is now locked away. But his younger brother is still stuck going to the same school where all of this happened, starting his freshman year there. Not only that, but the younger sister of one of the victims is starting her freshman year there as well.
Stephen and Monica have known each other for a long time. Not only was Jude, Stephen's brother who was the shooter, dating Simone, Monica's older sister who he killed during his rampage, but they've gone to school together for a long time, it's a small town. Turns out both of them have kind of had a crush on the other one ever since a science class lab in 7th grade.
Stephen goes to school not expecting any goodness, his own neighbors have signs up condemning his brother and his family. Monica goes to school, not feeling the same hatred for Stephen as it seems everyone else does, and everyone expects her to have. You see, she knows Stephen is not his brother, he is different, and she can tell. And she wants to give him a chance. Unfortunately, not everyone else does, and they plan to take up for her, beating Stephen up and making his life miserable.
I like that the story is told from both of their points of view, alternating chapters from Monica and Stephen. We get to see that things with Jude aren't the usual cut and dried school shooter story. It's not just a case of being bullied and getting back at everyone. No, there's always been something wrong with Jude. Something Stephen and his mother have lived with their whole life. And while Monica's family may look like the perfect family – before the death of Simone – some things will come to life that will throw her life into even more of a mess, worse than the loss of her older sister.
I liked the little connection of the drama teacher. I liked getting the emotions of someone on each side, and having them seem to be able to separate people. The twists on some of the details of the whole original incident were very original and not always ones you saw coming. I liked that.
Definitely a story about a school shooting that should be kept up there with Hate List by Jennifer Brown and This is Where it Ends by Marieke Nijkamp.