Beard in Mind, an all new standalone in the bestselling, romantic comedy Winston Brothers Series by Penny Reid, is available NOW!
All is fair in love and auto maintenance.
Beau Winston is the nicest, most accommodating guy in the world. Usually.
Handsome as the devil and twice as charismatic, Beau lives a charmed life as everyone's favorite Winston Brother. But since his twin decided to leave town, and his other brother hired a stunning human-porcupine hybrid as a replacement mechanic for their auto shop, Beau Winston's charmed life has gone to hell in a handbasket.
Shelly Sullivan is not nice and is never accommodating. Ever.
She mumbles to herself, but won't respond when asked a question. She glares at everyone, especially babies. She won't shake hands with or touch another person, but has no problems cuddling with a dog. And her damn parrot speaks only in curse words.
Beau wants her gone. He wants her out of his auto shop, out of Tennessee, and out of his life.
The only problem is, learning why this porcupine wears her coat of spikes opens a Pandora's box of complexity—exquisite, tempting, heartbreaking complexity—and Beau Winston soon discovers being
nice
and
accommodating
might mean losing what matters most.
Excerpt:
She'd taken the sofa, in her own house, and given me the bed. That didn't make a lick of sense.
I crouched next to her, threading my fingers into the silky hair at her temples. "Honey."
"Mmm."
I bent to whisper, "Shelly."
"Hmm?"
"I'm going to carry you to your bed. I'll take the sofa."
"Mmm."
I grinned at her soft noises, at the untroubled expression on her face, and how her brow—even in sleep—still looked regal and stern.
Sliding my arms under her legs and shoulder, I picked her up. And, unfortunately, that woke her up.
She jerked in my arms. "What are you doing?"
"I'm taking you to the bed."
"Don't do that."
"I don't mind, I'll take the sofa." Our mouths were just inches apart, and hers was distracting.
She squirmed. "Put me down."
Sighing unhappily, I did. I set her on her feet next to the couch. The blanket pooled at her feet and I stepped back to give her some space. It was dark, but I could see her just fine, and that meant I had to force my eyes to remain above her neck. The woman was wearing two pathetic scraps of fabric as pajamas. A thin little tank top and shorts. That's it.
I set my jaw and turned to the side, waiting for her to walk past.
"Where are you?"
I glanced at her and realized she couldn't see at all. She didn't have a hand out, but the way her eyes were moving about the room gave away her blindness.
"I'm here." I didn't touch her, because if I did, I wouldn't want to stop.
Shelly turned her head in my direction and took a deep breath. Still she didn't reach for me. I didn't know the specifics of what to expect after her Friday session, but I recalled Dr. West saying something about Shelly doing self-guided ERP exercises over this week.
"Can you see?" She licked her lips, her voice sandpapery. "Because I can't see at all. It's so dark."
"I can see." Unbidden, my eyes dropped to her body, to the swell of her breasts, the panel of bare stomach, the curve of her hips. Pinpricks of heat raised over my skin and I curled my hands into fists.
She shuffled forward and I caught her before she bumped into me, setting my hands gently at her waist.
"Let me take you to your room." My voice was rough, for obvious reasons.
Saying nothing, she brought her hand to my forearm, her body gently colliding with mine. And then her hand on my arm slid up my bicep to my shoulder.
"Shelly." I was running out of breath.
"I like this."
"What?"
"Touching you."
Oh fuck.
I held still and endured her hands moving over my body, down the front of my shirt, stopping at the hem, then pushing it up.
"Take this off."
I did. I pulled the T-shirt over my head and let it drop to the floor.
We stood there, facing each other in the dark, not touching. Despite the session on Friday and the progress that had been made, I realized she wasn't quite there yet. Dr. West was right, Friday was just a step, the first step. Shelly wasn't able to initiate contact. Not yet.
Her hands balled into fists and she swayed forward, her breath struggling little puffs.
If anything was going to happen tonight, I had to initiate it. I had to be the one to touch first.
God, how I wanted her. How I wanted her above me, beneath me, surrounding me. But how could I?
"I know why I hesitate," her voice was breathless, "but why do you hesitate?"
"Lots of reasons."
"Give me one."
"I don't want to you use you."
"I wish you would."
That pulled a laugh from me, just a small relief from the mounting tension. My eyes moved over her body, an undeniable impulse to devour the sight of her, her legs, stomach, chest, then up her neck to her lips.
"You asked me on Saturday if sex was a big deal for me, or if it was you. The answer is both."
She held very still, and I got the sense she was holding her breath, straining to listen.
"You are a big deal to me. I don't want a fling. I don't want a flirtation. I want promises."
"What can I promise you?"


That you'll love me. That I'll be your priority.
She shifted her weight from foot to foot. A spike of anxiety that she might leave me like this had me acting without forethought. I lifted my hands to her waist again and immediately, her fingertips skimmed over skin of my lower stomach in response, making my muscles tense in hot anticipation. She grew more assertive as she caressed my sides, abdomen, ribs, chest, shoulders, and then back down.
Shelly stepped closer, a hint of thrilling contact between her breasts and my torso, and all the words and worries melted from my mind, died on my tongue, suffocated by the feel of her body, and the possibility of this moment.
Her finger hooked in the waistband of my jeans. "Take these off." Her hand turned, her fingers and palm cupping me over my zipper.
Instinctively, I pressed myself into her touch even as I grabbed her wrist.
"Beau, I promise—"
She didn't get to speak, because I kissed her, hard and wild, unbuttoning and unzipping my fly with one hand and bringing her palm inside my boxers with the other.

My Review

:
My rating: 4 stars
This was an interesting book. I enjoyed the first book in the Knitting in the City series by this author, and I've been intrigued to read this one as well. While this is the 4th book in the Winston Brothers series, and it plays off of the other series as well, it was easy enough to read on its own. I got to spend some time with Quinn and Janie from Neanderthal Seeks Human, since Quinn was Shelly's brother and we met her in their book. I also got to meet all of Beau's brothers and sisters and friends. I'm now looking forward to getting to go back and read their stories, as well as for future books that are other characters' stories. All of the men in the story are so different that it makes them fun to see how they are going to handle love when it is coming at them. And I have to say that I really liked that we got an extremely real woman to see how she could fall in love with her extreme case of OCD. And I liked that Beau was able to deal with it, but that in some ways, he definitely acted realistically with Shelly in how he reacted to different events.
I do have to say there were some moments I was unsure just how it could work, but they were overcome by the writing keeping me reading and not wanting to put it down. The beginning did take a bit to get into, as the book is told mostly from Beau's viewpoint, and I think I'm more used to romances being evenly told throughout the male and female lead, with usually more on the woman's side. I also guess I didn't realize there was a bit of the motorcycle club story with this series, but it wasn't in a way that overwhelmed the plot for me, even while it totally added a lot of depth to the story overall.
I am definitely a Penny Reid fan, and when I got the chance to win any of her audiobooks through a Facebook contest, I immediately asked for the first book in this series, and I can't wait to listen and get back to the first part of this family's story. If you are looking for a fun romance, but with the serious and realistic qualities of their lives and families thrown in, this is the book/series/author for you!
Read Today!
(Free in Kindle Unlimited)
Enter the Giveaway!
Meet Penny Reid
: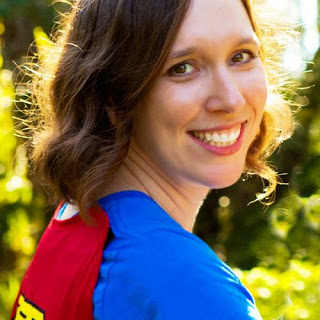 Penny Reid is the USA Today Bestselling Author of the Winston Brothers and Knitting in the City series. When she's not immersed in penning smart romances, Penny works in the biotech industry as a researcher. She's also a full time mom to three diminutive adults, wife, daughter, knitter, crocheter, sewer, general crafter, and thought ninja.

Connect with Penny: