Every time I think I'm caught up on reviews, that goes away soon. I'd say I should slow down my reading, but I don't want to. So, more mini-reviews today! The books this time are from some of my favorite authors, new authors, and some that I was asked to give a try or to read to help vote for contests.
The Perfect Game (The Perfect Game #1) by J. Sterling:
Published: October 1st, 2012
Source: Purchased on Amazon
My rating: 3.5 stars
I downloaded this book to read because of the Love Between the Lines coloring book. I didn't have any more pages I could color because I'll only color the pages of the books I've read. So this was my next choice. It was an enjoyable read, but ended in a way that I am going to need to read on to see where their story will go next.
Here is the blurb from Goodreads:
He's a game she never intended to play.
And she's the game changer he never knew he needed.

The Perfect Game tells the story of college juniors, Cassie Andrews & Jack Carter. When Cassie meets rising baseball hopeful Jack, she is determined to steer clear of him and his typical cocky attitude. But Jack has other things on his mind… like getting Cassie to give him the time of day.

They're both damaged, filled with mistrust and guarded before they find one another (and themselves) in this emotional journey about love and forgiveness. Strap yourselves for a ride that will not only break your heart, but put it back together.

Sometimes life gets ugly before it gets beautiful…
Here's my finished coloring page for this book:
Dangerous Kiss (Dangerous Noise #1) by Crystal Kaswell: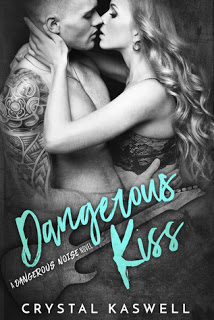 Published: November 2nd, 2016
Source: Purchased on Amazon
My rating: 4.5 stars
Okay, I have been a fan of Crystal Kaswell since I first discovered her other rock star series, Sinful Serenade. I read that series out of order, well, I read the 2nd book first, and with this new series, I actually started in the middle, by reading book 3, Dangerous Rock, first, as part of a blog tour. Of course I loved that book, and so had to go back and get the other two books to read next. This first book in the series was not my favorite so far, as I had a few issues with the characters, but mainly just because I didn't personally identify with them. Other than that, it was still good, and I loved getting to know some of the characters that I'd met in book 3, and seeing how their romance came about.
Here is the blurb from Goodreads:
He was supposed to glue my broken heart back together. Instead he threw me away.

Now he's just another rock star asshole.

He gets everything he wants.

But not me. Not again.

Ethan Strong was the first man I ever loved. He was the one person who understood me, the one person who made me feel whole, the one person who set my body on fire.

We were supposed to be together forever. Then things got hard and Ethan forced me to choose between him and everything I've worked for.

Now he's back in my life. He says we'll be friends. It's been a long time. I can forgive, but I can't seem to forget. The taste of his lips, the sound of his groans in my ears, those calloused fingers between my legs– I'm going out of my mind remembering all the pleasure he brought me.

Worse, I keep thinking how happy he made me.

I can't fall back in love with Ethan. It doesn't matter how badly I crave his gorgeous blue eyes, his tattooed arms, and his strong guitarists' hands. It doesn't matter that his smile still lights me up inside. It doesn't matter that I need him like I need oxygen.

I'm not giving Ethan another chance to throw me away.
Dangerous Crush (Dangerous Noise #2) by Crystal Kaswell: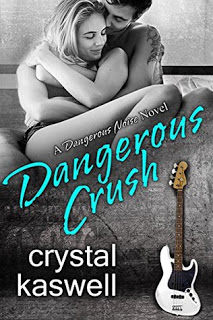 Published: January 3rd, 2017
Source: Purchased on Amazon
My rating: 4 stars
Once again this wasn't one I loved as much as I did book 3. I think a lot of times the whole baby sister trope can irritate me. The fact that Kit was such a jerk at times, and I didn't think it was warranted, well that annoyed me. I'm glad I read the story, and I did still give it 4 stars, because Kaswell does a great job with these stories, even when you're not in love with the couple, you're still sucked into the story. Again I enjoyed getting to see the other characters interacting and coming into their own romances as they were unfolding. And I'm now very intrigued to read the final book as soon as I get my hands on it.
Here is the blurb from Goodreads:
Kit
Piper.
My band mate's baby sister.
The one woman I can't have.
The one woman who won't get out of my head.
Those big blue eyes, those sweet pink lips, the cheeks that flush at the slightest provocation…
I want her under me, groaning my name, shaking with desire.
She's too good for me. Too sweet. Too innocent.
I shouldn't be the one to take Piper's virginity.
But there's no way in hell I'm letting another guy fill her with pleasure.

Piper
Kit.
The bassist in my brother's band.
The guy I've been crushing on forever.
The tall, dark, handsome musician who keeps everything to himself.
He looks at me like I'm an innocent flower.
We're only friends. We're only ever going to be friends.
I need to stop thinking about running my fingers over the lines of his tattoos.
I need to stop wondering what his tongue piercing would feel like against my–
I need to get over him.
But the more I get to know him, the more I want to get under him.

MFM: A Menage Romance by Lauren Bliss:
Published: June 13th, 2017
Source: Received for review
My rating: 3 stars
I do normally enjoy a good menage romance, and this one wasn't too bad, if not the best I've read. The writing was great, story was good, although nothing unexpected about it. This being the author's debut novel makes me look forward to reading more from her as she writes more, because it was good! I liked the characters, did like that the best friend was written the way she was, I guess in a way that was a little different from a lot of romance novel best friends. No more details on that in my review, you'll have to read it to see what you think!
Here is the blurb from Goodreads:
Everything changed the moment I met them.
It was only supposed to be one night: a place to crash, after a fight with my best friend.
But one night wasn't enough.
In fact, I don't think I could ever get my fill of them.
They're best friends, who grew up together like brothers.
Mason and Maxwell.
Rich, mysterious, and totally into me.
Mason's charming, a real smooth talker, while Maxwell's the strong silent type.
I can't decide which one I like more.
And maybe I don't have to …
Because now they've claimed me. Claimed me completely.

MFM is a smoking hot, standalone MFM menage romance about a shy, innocent girl called Fawn and the two alpha bad boys who open her up to a whole new world of experiences. No cliffhangers. No cheating. No M/M scenes. HEA guaranteed!
Floating Loose by Jill Beck: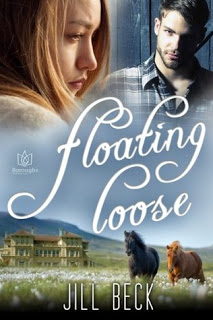 Published: July 21st, 2016
Source: Received to read and judge for a contest
My rating: 3 stars
I had some issues with this one because I'm not the hugest fan of the older man younger woman story, especially when the girl is in a school where the man is kind of in a teacher or authority position. The story was at least good at keeping my attention, even with the issues I had. If you enjoy this kind of story, then I think you should give it a try.
Here is the blurb from Goodreads:
Seventeen-year-old orphan Erinn Rylie Keller has just arrived at Marquette, an elite Virginia boarding school complete with horses, a stable, and—with the help of the handsome, determined Alex McKinney—the one thing that's been missing in her life: hope.

COMING HOME

After a lifetime in foster care, Erinn Rylie Keller has inexplicably been placed at Marquette Hall, an elite boarding school in Virginia. Uneasy with the luxury of the setting, and with her new socialite classmates, Rylie finds comfort working with the school's horses—and with Alex McKinney, the determined young twenty-something who looks after them.

As Rylie's skill with the horses grows, so, too, does her confidence. But Alex is more than she can hope for. Handsome, competent, with blue eyes you could fall into…and a girlfriend. In fact, Rylie can't even hope for a smooth ride to graduation. After two troubling incidents in the stable, Rylie's only choice seems the same one she's always fallen back on: to run away. But this time there are those who love her and want to keep her safe—and who will show her that accepting hope is only the beginning.
Beyond the Stars by Stacy Wise: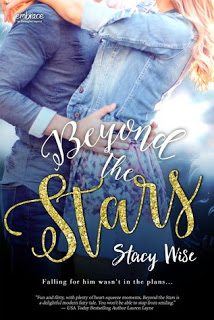 Published: February 8th, 2016
Source: Received to read and judge for a contest
My rating: 4 stars
This was a really fun read! The characters were really well written, and I enjoyed the banter and interactions between them. The guy, Jack, at times I didn't quite understand him, but in the end I grew to really like him and to root that he and Jessica would get together. Especially after the living arrangements for Jessica fell through. A fun Hollywood romance between a big star and a normal girl. Give it a try!
Here is the blurb from Goodreads:
Falling for him wasn't in the plans…

Most girls would kill for the opportunity to work for Jack McAlister, Hollywood's hottest actor, but twenty-one-year-old Jessica Beckett is ready to kick him out of her red Ford Fiesta and never look back. She should be spending her junior year in France, eating pastries and sharpening her foreign language skills. Instead she's reluctantly working as Jack's personal assistant, thanks to her powerhouse talent agent aunt.

Jack is private, prickly, and downright condescending. Jessica pushes his buttons—she's not the type of girl to swoon over celebrity heartthrobs, precisely why her aunt thought she'd be perfect for the job—and Jack pushes right back.

But as she begins to peel away his layers, Jessica is shocked to find she craves her boss's easy smile and sexy blue eyes. The problem is, so does the entire female population. And what started out as the job from hell soon has Jess wondering if a guy like Jack could ever find love with a regular girl like her.
Blackmail (Skeleton Key #1) by Anna James Watson: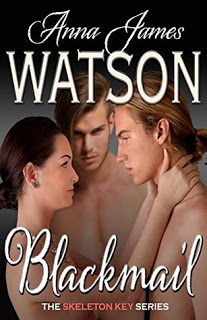 Published: May 10th, 2017
Source: Received copy for review from author
My rating: 4 stars
I got the chance to read this through an offering on Goodreads from the author. As I mentioned in the review above for MFM, I do enjoy good menage stories. While this one had a little more of the MM than I normally like, the emotions and relationship between all three was done perfectly. I was hooked on this one and had a lot of trouble putting it down. There were only two little bits that I had issues with, one was there was a philosophy discussion group and it was so detailed into philosophy, that as someone who hated that class in college, I had to pretty much just skim through, and didn't quite get what was the disagreement between the characters. The other thing I didn't really care for was the noises that the characters made during the sex scenes. Yes, I know there is moaning and such, but the way it was written in this story was a little silly for me. Okay, I know I sound like I'm bashing this, but really I'm not. The sex noise words really seemed to be cut out the further it went into the story, and that really helped. However, cliffhanger! I now need book 2 because while I had an inkling that something like that might happen, I never expected it to go the way it did.
Here is the blurb from Goodreads:
Mia Winters was a perfectly normal junior at Yale University. Until she accidentally witnessed a secret lovers' rendezvous. Now, blackmailed into silence, a sexual hunger has awoken inside of her, and there's only one way to satiate it–but she's not sure she wants to. Of course, Julian Roth, her gorgeous and brilliant T.A., and Tristan Masters, her equally gorgeous but loathsome classmate, may not give her a choice. The closer she gets to them, the more she is drawn into the world of old money, family dynasties, and secret societies–all worlds she never intended to discover. Will she let herself go down the proverbial rabbit hole or will her better judgement win out in the war between what her brain thinks and what her body craves?

This work of fiction is erotica, meaning that sexual encounters are descriptively explicit and extensive. This novel features a "MMF" relationship, meaning two men and one woman are all involved in a three-way sexual relationship. Content is inappropriate for non-adults.
True to You (Love Happens #3) by Jodi Watters:
Published: June 14th, 2017
Source: Received for honest review
My rating: 4 stars
Okay, while this series is definitely standalones that can be read in any order, I am definitely going to have to go back and read the first two books. I loved the supporting characters, so I am really interested in their stories. Ashton and Olivia are a very passionate and intriguing couple. Their very short and but hot relationship was one that I enjoyed reading about. I definitely felt for each of them and what had happened to them, but it was hard at times to give Ash a break or feel sorry for him after what he did to Olivia. Even knowing that he was hurt as much as she was, the way he handled it, and his treatment of his father, even with what his father may have deserved, was not very flattering for him. In the end though, I really wanted them to just realize they needed each other and get back together. Still, you should pick this up and give it a try, and also probably pick up the rest in the series like I intend to.
Here is the blurb from Goodreads:
Olivia Quinn wasn't looking for love. Climbing the corporate ladder at a thriving winery filled her days, and HGTV and a bottle of Coleson Creek chardonnay filled her nights. Hooking up with the heir to that winery seemed a bad idea for both her heart, and her employment status. But even a maxed-out Visa couldn't make her say no to an impetuous two-day sex fest with a sapphire-eyed soldier who wore rugged and handsome like a tailored suit, and danger like a second skin.

Two days, that led to a promise of a lifetime. Or so she thought.

Asher Coleson is former Special Ops and 100% alpha. The sole heir to a family winery he wants jack shit to do with, he's the strong, silent type, hardened not by the military, but by the aching absence of his one true love. Underneath his aloof attitude and sinewy muscle—all six and a half feet of him—lies a man so loyal to his beloved Olivia, he's living half a life. And that half doesn't include sex. He's a bit… backed up. And not happy about it, either, but only his Olivia can satisfy him.

These days, getting lucky means only one thing. Getting his wife back.
Pucked (Pucked #1) by Helena Hunting:
Published: May 3rd, 2015
Source: Purchased on Amazon
My rating: 5 stars
So I finally got around to reading this, and just after barely getting started I was kicking myself for waiting so long! I finally gave in and purchase the ebook, again so that I could color another page in my coloring book, and also because the author is going to be at Apollycon 2018, which once again I'll be volunteering at, and now I'll be so excited to meet her! I don't think I can express just how much I loved this book. How hilarious it was! How sexy it was! You have to love the MC, and that does not stand for the main character. The part at the end with Violet dressing up MC to be Super MC and tying a little cape on it, drawing a mustache? Man, I laughed out loud at this one. And I was sitting in the same room as my stepmom at the time, feeling a little silly. I'll be purchasing a paperback of it to get autographed, as well as reading on in the series.
Here is the blurb from Goodreads:
With a famous NHL player for a step-brother, Violet Hall is well acquainted with the playboy reputation many hockey stars come with. She's smart enough to steer clear of those hot, well-built boys with unparalleled stamina. That is until she meets the legendary team captain—Alex Waters.

Violet isn't interested in his pretty, beat-up face, or his rock-hard six-pack abs. But when Alex inadvertently obliterates Violet's previous misapprehension regarding the inferior intellect of hockey players, he becomes more than just a hot body with a face to match.

In what can only be considered a complete lapse in judgment, Violet finds out just how good Alex is with the hockey stick in his pants. But what starts out as a one-night stand, quickly turns into something more. Post-night of orgasmic magic, Alex starts to call, and text, and e-mail and send extravagant—and quirky—gifts, making him difficult to ignore, and even more difficult not to like.

The problem is, the media portrays Alex as a total player, and Violet doesn't want to be part of the game.
I just started this coloring page, and I have to say I'm disappointed there isn't a beaver anywhere on it: