-->
Celebrate the Release of PROM QUEEN!
A high school reunion is about to get down and dirty and a whole lot more complicated in this new erotic romance from New York Times and USA Today Bestselling Author Katee Robert.
Welcome to Bad Boy Homecoming! Five bestselling authors got together to see what happens when bad boy heroes (and even a bad girl or two!) roll back into a small town in Texas for their High School reunion. Sexy times, angst-filled memories, and second chances abound with this contemporary romance series.
Add
PROM QUEEN
to your TBR pile on
Goodreads
, then keep reading for an exclusive excerpt! Be sure to enter the giveaway for your chance to win a
$50 Amazon gift card, a Signed Paperback Set of the entire Bad Boy Homecoming Series, or a Prom Queen themed scented candle!
Release Date:
June 27, 2017
Series:
Bad Boy Homecoming
Genre:
Contemporary Romance
Jake Davis had it all in high school—a scholarship to his college of choice, a promising football career, and the gorgeous prom queen for a girlfriend. And then he lost it all when he was injured right after graduation. Ten years later, he's mostly made his peace with that, and now runs a company that provides women with dates for special events. Imagine his surprise when he discovers that the ex who left him in the dust needs a fake boyfriend for their high school reunion…
Jessica Jackson used to be the mean girl to end all mean girls. But life didn't turn out like she'd thought it would, and now she's twenty-eight, single, and works as an insurance agent to A-listers instead of being the A-lister like she'd always dreamed. She can't go back to her hometown and admit just how thoroughly she's failed, so she lets her friends set her up with a fake date for the reunion.
The second Jessica realizes that her fake date is Jake, she tries to call the whole thing off. The problem is the chemistry between them is even hotter now than it was when they were teenagers. Against her better judgment she lets herself get drawn into Jake's arms again—and into his bed. But time doesn't heal all wounds—sometimes, it actually makes them worse—and if Jessica and Jake can't learn to forgive each other, their second chance might not last the weekend.
Find out more at:
Amazon
|
Barnes and Noble
|
iBooks
|
Kobo
Check out the entire
Bad Boy Homecoming Series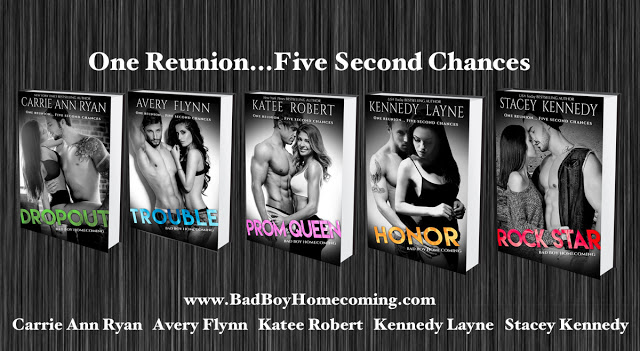 -->

Excerpt from PROM QUEEN




Copyright © 2017 Katee Robert

Taking a fortifying breath that did nothing to fortify, she scrolled through her texts to find the number that had shown up last night. The words were short and to the point.

I'll pick you up at the airport.

Nothing there to tell what kind of man she'd ended up with, and she'd been too cowardly to text back anything other than a generic agreement. Now there was nothing left to stall with. Jessica hitched her purse higher up on her shoulder and headed through security. The big red line tiled into the floor was a point of no return in so many ways. Why did I think this was a good idea?

Her mama didn't raise a coward, though, so she lifted her chin and marched forward. No matter who this guy was, she'd faced down worse. She'd been worse. It couldn't be more horrifying than the Miss Texas Teen USA pageant of 2005 where that little brat Misty Brennan cut holes into her dress and she didn't realize it until she was out on stage and had her pink polka dot bra showing to the audience and God. Jessica had powered through that and walked out with second place, and she'd power through this, too.

She joined the people from multiple flights crowded around the baggage claim, her body practically vibrating from nerves. The scent of too many people in too little space assaulted her, but she was more focused on the faces she didn't recognize from the plane. Too many, all filtered in with the travelers—there was no way she'd be able to pick him out of the crowd. Her date had her picture, so he'd have to be the one to approach. What if he doesn't? What if this is just karma giving me one last kick in the teeth?

Oh, for God's sake, stop being so dramatic.

A thrill shot down her spine, quickly eaten up by a dread so strong, she wished the ground would open and swallow her whole. She shot a look at the nearest exit, but if she took off now, she'd have to admit that she fled instead of turning and facing her Number One Nightmare.

Praying she was wrong, she turned slowly to face him. Nope. That was definitely Jake Davis, ex-quarterback, ex-boyfriend, just all around ex when it came to Jessica. And he was definitely way better in real life than he'd been in the pictures she'd seen while she was creeping on him. Her heart picked up and her body sparked to life in a way it hadn't in far too long.

Something like ten years.

She was staring. She couldn't stop. Jessica licked her lips, her breath stalling in her lungs when his green eyes met hers. His eyes had always been one of her favorite features—a true green that brightened depending on what he was wearing, framed with thick, dark lashes that had always made her jealous when she was a teenager. Going by those eyes, Jakes would be judged downright pretty.

At least until you saw the rest of his face. His hair had darkened over the years, closer to brown than blond, and his lantern jaw was covered with… "What the hell is that on your face?"

He blinked, the only outward sign that she'd surprised him.

"Nice to see you too, Jessie." He touched his scruff. "A lot's changed since you left."

Her gaze jumped to his right shoulder. There was no outward sign of the injury that had started the end of it all, but then, he was wearing a light-weight black T-shirt, so it wasn't like it would show. Focus, Jessica. "What are you doing here? Are you picking up someone for the reunion?" There you go. Nice and casual.

"You might say that." He kept looking at her like he could see the inside of her head. Another new trick.

She glanced around, trying to be subtle. The baggage claim had started to clear out, and there weren't any conveniently gorgeous men standing around alone. Where was her date? Now would be the perfect time for him to sweep in and do the job she'd hired him for. "I'm here with someone."

She frowned. "What are you talking about?" On second thought, escaping Jake before she met her date was probably a better choice. She didn't want to have to deal with meeting this new guy and trying to pretend they'd been dating forever. And how was she going to explain how she'd magically lost him between getting off the plane

Cora's so-called perfect plan was teetering toward disaster.

"Your order from Diamond Dates." He gave her a slow, knowing grin that she felt all the way to her toes, and offered his hand. "Jessica Jackson, I'm your date for the reunion."




-->

New York Times

and USA TODAY bestselling author Katee Robert learned to tell her stories at her grandpa's knee. Her 2015 title, The Marriage Contract, was a RITA finalist, and RT Book Reviews named it 'a compulsively readable book with just the right amount of suspense and tension." When not writing sexy contemporary and romantic suspense, she spends her time playing imaginary games with her children, driving her husband batty with what-if questions, and planning for the inevitable zombie apocalypse.

Connect with Katee at:

Website

|

Facebook

|

Twitter

|

GoodReads

|

Instagram

Giveaway

:





-->

Enter for your chance to win one of these fabulous prizes!
One (1) $50 Amazon Gift Card
One (1) Signed Paperback Set of the Bad Boy Homecoming Series
One (1) Prom Queen themed Scented Candle




a Rafflecopter giveaway