CHASING LOVE
by
Melissa West
Genre: Contemporary Romance
Pub
Date: 5/30/17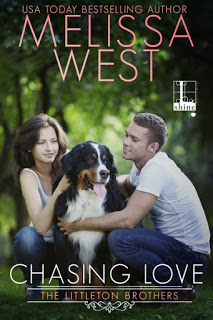 Farming family land on sunny
Crestler's Key, the sweet, sexy Littleton brothers are notorious
bachelors. But all that will change when the right woman comes along…
There aren't many things Charlie
Littleton values more than his lifelong friendship with his buddy
Lucas, currently home from a tour in Iraq. But when he discovers that
Lucas's younger sister, Lila, is back to assist the town's
overburdened veterinarian, Charlie is torn. She's no longer the
skinny, awkward kid he remembers, but a gorgeous woman—one Lucas
would never approve of him dating. When Lucas asks him to watch out
for Lila when he's called to duty again, Charlie can't say no—but
he can't pretend it's easy to ignore his feelings either.
As
a teen, Lila crushed on Charlie—hard—and the man he's grown up
to be is even more wonderful than she dreamed. Relationships are a
tricky business, though, and too much history is at stake to risk one
now. But every moment they're together is heated by their simmering
attraction—and one day an impulsive kiss leads to much more. What's
tangled in a matter of loyalty soon becomes a question of the kind of
love worth chasing…

My rating: 3.5 stars
This was a very sweet read. It had a lot of different things going on in the story, and sometimes that had me turning back a few pages to see what was going on, but nothing that took me way too much out of the story. The whole thing with Charlie going back and forth within like seconds about whether he was going to flirt with Lila or not got to be a bit annoying as well. But you had the usual fun friends, as well as the ones that just knew the two should be together and would be together. The connection between Charlie and Lila was definitely there, and maybe I need to go back and read the book before this to quite understand why Lila's brother Lucas was so against the two of them at the beginning. And I loved the vet and animal parts of the story as well.
Melissa West writes heartfelt Southern
romance and teen sci-fi romance, all with lots of kissing. Because
who doesn't like kissing? She lives outside of Atlanta, GA, with her
husband and two daughters and spends most of her time writing,
reading, or fueling her coffee addiction.

Follow
the tour HERE
for exclusive excerpts, guest posts and a giveaway!