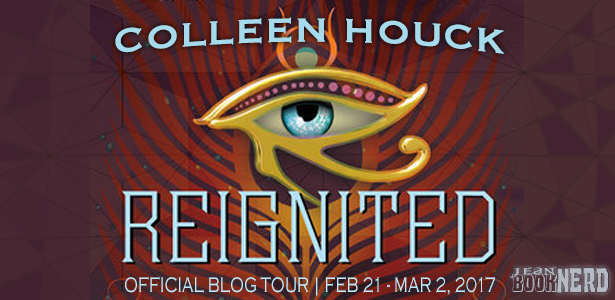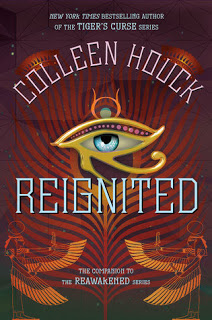 Book Info:
Title: Reignited
Author: Colleen Houck
Series: Reawakened #0.5
Genre: Retold Egyptian Mythology
Published: February 21st, 2017
Source: Copy from publisher
My rating: 4 stars
Synopsis
A sibling rivalry.
A forbidden romance.
A spell that changes everything.
In Heliopolis secrets abound and passions ignite as chaos rises.
From the New York Times bestselling author of the Tiger's Curse series and Reawakened comes a novella full of celestial marvel, passion, betrayal, and evil that will grow to reign over humanity forever.
Before Lily and Amon met, before the cosmos was in chaos and needed three brave brothers to fight off evil, there were four siblings who helped rule the earth.
Each sibling had a special gift. Osiris, the god of agriculture, helped mortals to grow and thrive in their natural environment. Isis, the goddess of creation, fostered health and wellness. Nephthys, the seer, was able to keep the balance between all living beings and the universe. But Seth, the youngest sibling, was left without any special powers. The Waters of Chaos, which granted each god's talent, were running dry, and Seth was paying the price.
As time passed, however, Seth's determination and willfulness resulted in a very special gift, one that should have granted him the ability to enact wondrous change. But Seth's competitive childhood gave him a heart so cold and vacant that instead, his gift brought about great evil.
Seth was now the god of unmaking, the creator of disorder and destruction. And he was ready to seek his revenge, dominating all who got in his way.
AMAZON | BARNES and NOBLE | BOOK DEPOSITORY
"[A] must-read for thrill-seekers and fans of alternate worlds."—RT Book Reviews
"Rick Riordan fans who are looking for another series will delight in this fantasy."—SLJ
"Littered with Egyptian mythology and snappy dialogue, this romantic adventure is a good choice for graduates of Rick Riordan or fans of Houck's Tiger's Curse series."—Booklist
"Fans of paranormal romance will love the Egyptian spin on this story of devotion and sacrifice, and Lily's humor, combined with plentiful dangerous escapades, will keep readers engaged."—VOYA
"The author weaves her story out of Egyptian lore, cinematic magic, selfless love, and . . . is clever enough to remain surprising even to the last sentence."—Kirkus Reviews
"Houck's moving depiction of the love between Lily and Amon is memorable."—Publishers Weekly
"Wonderfully written and…the heart-pounding adventures are topped only by the heart-melting romance."—The Deseret News
"A sparkling new novel with a fully imagined world and mythos, and crackling romance! Egyptian mythology has never been this riveting!"—Aprilynne Pike, #1 New York Times bestselling author of the Wings series, on Reawakened, book one in the series
My Review:
I have always been fascinated with Egyptian mythology and culture. Probably one of the reasons I loved the first book in this series, Reawakened. This book is a prequel novella, and really it is a kind of retelling or redefining of an Egyptian myth. The way the author told this, the way she made the characters/gods her own, is one of the reasons that I love her writing and am so glad that I've found her books. I look forward to finishing this series as the third book comes out this year.
Colleen Houck's Ten Things She Would Change About Her High School Years if She Could Go Back:
I'd ask one of my crushes on a date.
I'd read more.
I'd spend more time doing homework.
I'd go to prom.
I'd make more friends.
I would have stayed in drama.
I would have joined choir.
I'd have taken advantage of eating lunch off campus.
I'd have invested in a better backpack.
I would have gone to support the football team.
About the Author:
New York Times Bestselling author Colleen Houck is a lifelong reader whose literary interests include action, adventure, paranormal, science fiction, and romance. When she's not busy writing, she likes to spend time chatting on the phone with one of her six siblings, watching plays, and shopping online. Colleen has lived in Arizona, Idaho, Utah, California, and North Carolina and is now permanently settled in Salem, Oregon with her husband and a huge assortment of plush tigers.
WEBSITE: http://colleenhouck.com/
TWITTER: @ColleenHouck
GOODREADS: https://www.goodreads.com/author/show/3097905.Colleen_Houck
FACEBOOK: https://www.facebook.com/ColleenRayHouck
PINTEREST: https://www.pinterest.com/colleenrayhouck/
INSTAGRAM: https://www.instagram.com/colleen.houck/
Book Trailer:


Giveaway: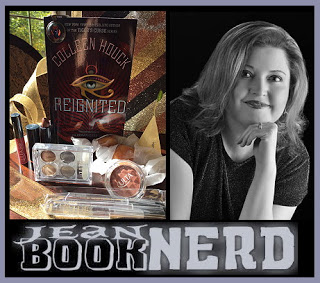 –Giveaway is open to International. | Must be 13+ to Enter
– 12 Winners will Receive a Copy of Reignited, Scarab Necklace + Exclusive Bonus by Colleen Houck
– 15 Winners will Receive an E-Copy of Reignited by Colleen Houck
You can check out the rest of the tour schedule HERE.