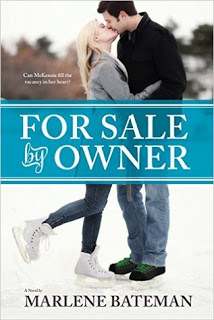 Book info:
Title: For Sale by Owner
Author: Marlene Bateman
Genre: Romance with a touch of religion, specifically LDS
Published: October 3rd, 2016
Source: Won on Facebook from author
My rating: 3 stars


I received this book from the author through a giveaway on Facebook. Overall it was a sweet story. While it is a story with a religious aspect, Latter Day Saints to be specific, it wasn't too over the top with that if you don't enjoy that type of story. Here's the blurb from Goodreads:


McKenzie Forsberg is headed home. She's quit her big-city job to return to her roots in the small town of Lake Forest. Kenzi hopes to buy her childhood home from her brother, Tom, as a way of revisiting the peace and security she's been missing in her life. But soon she is shocked to discover that the house has a pending sale, and Tom won't budge from the sale—not even for his sister.
Handsome widower Jared Rawlins catches Kenzie's eye until she realizes that he's the one who is buying her house—but he can only close the deal if he sells his own house by Christmas Eve. Jared is more than a little interested in Kenzie but has second thoughts when it seems that she may be sabotaging the sale of his home.
Slippery feelings of animosity and distrust ensue, with both Jared and Kenzie denying the chemistry between them. But then an unexpected discovery about their connected past puts a new twist in the dynamic. Now, can they put their differences aside and come to terms on a relationship that could last forever?


McKenzie, or Kenzie and Jared are both single parents. Kenzie because of a divorce, Jared because his wife passed away. The two have instant chemistry when they first meet. But then when Kenzie finds out that Jared is planning to buy her childhood home, the very reason that Kenzie kind of planned to move back, the tension rockets. And Kenzie does something that jeopardizes Jared's purchase of the house, even though she really doesn't do it in a malevolent way, it just kind of happens.


The writing is pretty simple. But there is a little back story that while you think has to be what is going on, the author has made enough changes in the adults to keep you kind of wondering if it's really going on. It was definitely a very sweet read, and if you're interested in that type of a read, you will enjoy it. It doesn't have any of the physical or sex scenes in most of the romances I have been reading lately, it would be more like what I used to read about 10 or more years ago.