First off, I'm not quite sure how I got lucky enough to be on an list for this author in order to get these two to review. I chose the one called The Cinderella Arrangement to read first because it sounded more like my type of read, as opposed to the other one called Dirty Prince. And honestly, I think I might now be a fan of these "naughty prince" type of stories. I remember reading one a few months back that didn't really grab me. But let me tell you, Dirty Prince was so good! Okay, so I'll do two mini-reviews for each one down below.
The Cinderella Arrangement: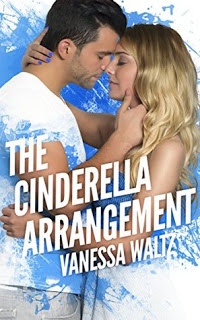 My rating: 3 stars
Honestly I ended up a bit disappointed with this one. It definitely started out pretty well, and I liked the idea behind it, but there was just something about the hero that I didn't like, or rather he just didn't quite win me over. It seemed to be a pretty short story. The writing was kind of simple, not bad, just not anything very fancy or unique. I did enjoy it though, it was a quick read, and one that I kept going and had trouble stopping when I had to go back to work because it kept you wanting to know how certain things would be handled. Here is the blurb from Goodreads:
Fake Cinderella. Real Romance.
Luke Pardini is many things: playboy, tabloid fodder, ridiculously attractive billionaire. He's the Prince Charming every woman dreams of.
And he wants me to be his fake girlfriend.
I don't want a relationship, even a make-believe one, but I do need the money. Writing isn't paying the bills, and I hardly have time for a second job, let alone a romance. But he's offering me a dream-come true.
I'll get the fancy dresses, the formal dinners, the full Luke Pardini experience. I get to be Cinderella for a few weeks, then I'll trade in the shoes. No problem, right?
Except I don't have to pretend when he touches me, but he's made it clear I only get to play his girlfriend for a few weeks. When midnight strikes, our Cinderella Arrangement is over.
He promised the arrangement would be simple.
I promised I wouldn't fall in love.
Dirty Prince (A Royal Romance):
My rating: 5 stars
Okay, this book, this book was a HOLY COW kind of read. I had finished Royally Screwed by Emma Chase about a week before this, and had really enjoyed it as well. It gave me the go ahead to try this one, even though as I mentioned at the beginning of this post, I'd never really enjoyed, or thought that I enjoyed, this kind of story. And honestly, at the beginning of this one, especially the first scene where Daisy actually sees Prince Liam in person and meets him, I did not like him at all. He was an ass. But once we got the chapters from his side of the story as well, I began to like him better. The sex was really hot in this one, even the one scene that I don't know is something I ever want to try had a quality to it that definitely left me a bit flushed. And just when the book seemed as if the big drama had happened and it was time for the HEA, there was a HUGE twist! I love when an author does that in a story. The only thing I'd have to say that I didn't like about this, is a very shallow thing. While the guy on the cover is definitely attractive, he really doesn't fit the dirty, cocky, snarky type of guy that Prince Liam is portrayed as. Other than that small thing, I highly recommend this one, and hope to read more like it from this author in the future. Here is its blurb from Goodreads:
He may not be very charming, but I prefer my prince…dirty.
You've read the tabloids. They call Prince Liam the Dirty Prince. I met him. I slapped him. It was hate at first sight, and, believe me, he's even filthier than they say. How do I know?
I married him.
The closest I ever got to a castle back home was in a mouse's theme park. Now I'm a princess stuck in the world's naughtiest fairy tale.
Liam expects me to act like a princess, but the Dirty Prince doesn't get to teach ME how to behave. I'd love to catch the first pumpkin carriage out of this kingdom, but Liam's giving me more happy ever afters than I ever thought possible. And what's even worse? I think his smart mouth and cocky attitude might be growing on me.
But just when I think I might be falling for my prince, fate intervenes. Our Once Upon a Time may be over.
But what if I'm not ready for this fairy tale to end?