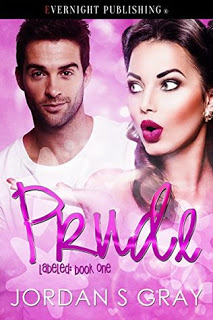 Book info:
Title: Prude
Author: Jordan S. Gray
Series: Labeled #1
Genre: New Adult Romance
Published: September 12th, 2016
Source: free copy from Xpresso book tours for review
My rating: 5 stars
The name of this is what caught my attention first, and so I asked to read a copy for review. And as you can see by my 5 star rating, I loved it! So, if you promise not to give my secret away, I downloaded this while I was at work one day, and I actually read about 36% just while I was at work that day. I couldn't stop! This book made me tear up, it made me laugh, I just loved it!
The book starts with one of the main characters, Rebecca, gets dumped by her boyfriend in front of a bunch of people on campus, and one thing he does is calls her a prude. Right afterwards, another guy comes up, and he tries to ask her out, but he's only doing it for a bet. Shortly after that, she gets to one of her classes and it turns out that the jerk who asked her out on a bet, Derek, is in that class. Even worse, they end up getting paired together on a class project.
Now Rebecca just wants to keep her perfect GPA, and when Derek picks a presentation to do, instead of a paper like she wants to do, she is so worried about if it will cause her grade to go down. She's not good with speaking in front of people.
Of course, Derek continues to tease her about being a prude, and in a way she keeps acting that way. Rebecca does things that make me crazy, like spooning with him one night, and then telling him the next morning that she just wants to be friends. And then he is really secretive about his family, and really you have no idea why. Towards the end something comes around that scared me that it might be another bet. But the way it goes definitely makes the last 10% edge of your seat. I read this book in 2 days. There were gushy romantic parts that made me smile like a love-sick idiot. The kind that I love in a book. In the end I was even more happy to find out that there will be another book featuring one of the other characters in the book. I'm actually getting ready to read and review it soon!
If you enjoy a hard to put down read with lots of emotional ups and downs, and an HEA, this is the book for you!