Book info: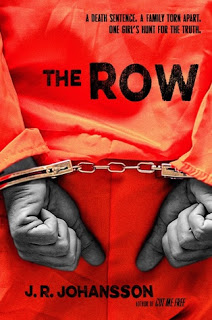 Title: The Row
Author: J.R. Johansson
Genre: YA Mystery
Release Date: October 11th, 2016
Publisher: FSG/Macmillan
A death sentence. A family torn apart. One girl's hunt for the truth.
Seventeen-year-old Riley Beckett is no stranger to prison. Her father is a convicted serial killer on death row who has always maintained that he was falsely accused. Riley has never missed a single visit with her father. She wholeheartedly believes that he is innocent.
Then, a month before the execution date, Riley's world is rocked when, in an attempt to help her move on, her father secretly confesses to her that he actually did carry out the murders. He takes it back almost immediately, but she cannot forget what he's told her. Determined to uncover the truth for her own sake, she discovers something that will forever change everything she's believed about the family she loves.
Buy Links
:
Amazon
|
Barnes and Noble
|
Kobo
|
Google Play
|
Books-a-Million
|
Indiebound
|
Indigo
|
Overstock
|
Powell's
|
Target
-->
Also available October 11th by the author, the paperback of
CUT ME FREE
!
My Review
:
Thanks to YA Bound Book Tours and Netgalley for letting me read an e-galley of this book. I have been a huge fan of this author since I first read Insomnia. I have yet to be disappointed by any of her books, and this one totally held up that trend. I don't read a lot of this kind of contemporary YA, but it was such a good read.
Riley's family is kind of messed up, with her father on death row, her mother has to work a lot of hours to keep the family going. Riley doesn't have any friends either. The kids either don't want to be friends with her because her father is a convicted murderer on death row, or their parents won't let them be friends with her. Something Riley does to try to feel normal is to drive to malls far enough away from her home that people don't know who she is at first sight. This first time she runs into a boy and his little brother in a little restaurant in the mall. The boy's name is Jordan. He's cute, and he seems to be very friendly, and wants to get to know Riley better. But Riley is unsure how much to keep in touch with him, as she doesn't want him to find out who she is, or who her father is, because then she knows he won't want to be friends anymore.
Her father loses his last chance for an appeal, which means he will be put to death in less than month. When Riley goes to see him for her weekly visit, he tells her that he is actually guilty. This throws Riley's whole world out of whack. She calls Jordan to tell him, for some reason feeling like she can only talk to him about this. And that's when she finds out that Jordan is connected to her and her father. You see he is the son of the police officer who put her dad away.
But Jordan wants to help Riley figure out the truth. When her father tells her that he was only saying it to make it easier when he was executed, now she doesn't know what to believe. He tells her it was a lie when there is a murder that seems to be just like the ones he was accused of. Now there is a chance he might be able to get out of jail, if they can prove that this new murder is the same as the ones before, then it means he would not be guilty, just as he had always claimed.
However, looking into past murders, as well as this new one, will put Riley, and Jordan, in danger. Not only danger, but also Riley will learn things about both of her parents that will make her think about her whole life not being what she'd always thought it was. Her parents not being the people she had always looked up to.
I really liked the characters. Like Riley, I was intent on having to know just whether her father was really guilty or not. With all the reality tv lately about other murder cases getting new evidence and finding people innocent, this will be something that connects to those who find that interesting. The ending of the book definitely was suspenseful, and hard to put down. I would totally love to see this as a movie. Another great story from Johansson.
About the Author
:
-->
J.R. Johansson's books have been published in a dozen languages and more than twenty countries worldwide. She has a B.S. degree in public relations and a background in marketing. She credits her abnormal psychology minor with inspiring many of her characters. She lives in Utah with two sons, a wonderful husband, three cats, and a hot tub named Valentino.
Website
│
Goodreads
│
Twitter
│
Facebook
Giveaway
:
a Rafflecopter giveaway
Blog Tour Schedule:
Blog Tour
Organized by: