Book info: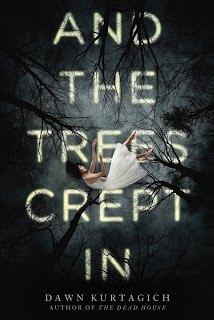 Title: AND THE TREES CREPT IN
Pub. Date:
September 6, 2016
Publisher:
Little Brown Books for Young Readers
Formats:
Hardcover, eBook, audiobook
A stunning, terrifying novel about a house the color of blood and the two sisters who are trapped there, by The Dead House author Dawn Kurtagich.
When Silla and Nori arrive at their aunt's home, it's immediately clear that the "blood manor" is cursed. The creaking of the house and the stillness of the woods surrounding them would be enough of a sign, but there are secrets too--the questions that Silla can't ignore: Who is the beautiful boy that's appeared from the woods? Who is the man that her little sister sees, but no one else? And why does it seem that, ever since they arrived, the trees have been creeping closer?
Filled with just as many twists and turns as The Dead House, and with achingly beautiful, chilling language that delivers haunting scenes, AND THE TREES CREPT IN is the perfect follow-up novel for master horror writer Dawn Kurtagich.
Author Interview
:
1.

What does your writing process look like?

Do you know the whole story when you start?

Or do you just start writing and go with it (seat of the pants writing)?

If you plan it out, how do you do that?

Outline, note cards, post-it notes, etc.?
I use a combination of methods, but each book is written in its own way. The usual steps are as follows:
1.

Follow a morning routine.
I do this for as long as I am in an early-bird phase. I'm not always there naturally, but I try to keep myself for the majority of the year. In winter, I tend to go more nocturnal. Even then, however, I'll still follow a morning routine. I do this as a sort of ritual to get me into a success mind-frame and by doing so I have great writing days and truly love what I'm doing.
While working by the seat of your pants is SO much fun, and I did it for years, nowadays, I need to be more organized. Often I'm writing on proposal, so I need to have written the synopsis for the whole book before I even begin. These synopses will usually change—quite dramatically sometimes—as I then get writing. But it usually means that I know what is going to happen and how it is going to end.
3.

Post-its and Index cards
I use post-its and index cards somewhere in my process. Always. It might be mid-draft if I reach an unforeseen roadblock, or it might be later during revisions.
I have recently started road-mapping on a large piece of paper like Holly Black and Marcus Sedgwick. By doing this it's much easier to see the overall picture, particularly with complex plotlines.
I use a variety of other methods to help me work: drawing, diary-keeping, painting, journaling, keeping a writing journal, crafting and so much more. There are limitless ways of exploring the story you're trying to tell, and each one might reveal part of the puzzle. Think outside the box!
2.

How do you come up with your ideas for your stories?
This one is tough. Mostly because I think readers expect my answer to be
the
answer. Maybe there's a doorway in the forest where I find them floating in the air. (I wish!) The truth is, they just come. Ideas just
are
. My usual problem is not finding one, but choosing the
right
one.
3.

How long have you been writing?
As a dyslexic person, I came to books later in childhood. Because of this, I used to draw to tell my stories. I used to draw comic strips with insanely melodramatic storylines. I started doing that when I was very young. Three? Four? When the words
did
reach me (or when I reached them), I began writing my first novel. I was twelve. I finished it at 17.
4.

What tips do you have for aspiring writers?
Try to be patient. Youth is never patient, but try to be. Write something for yourself. Let yourself love it. Go with the flow while you can. Then: edit. Perfect your book. If you like, get others to read it. Edit, rewrite, and rewrite again. Think. Pause. Meditate. When your book is the best you can possibly make it, only then think about the next steps. And when you do think about the next steps, go as carefully and as patiently as before (and repeat all the above steps). You'll get to the next step after that . . . repeat as above.
This is a cool industry, but tough. Being patient, learning your craft, growing a thick skin, and staying deathly in love with it will go a long way.
But also: Disregard any and all advice that doesn't work for you. You just might need to break the rules.
5.

What is your favorite scary story/book/author?
Picking only one? Now you're just being cruel!
6. Favorites:

Movies/tv shows, social media site, music, food (writing snack)
Movies: The Fountain, A Tale of Two Sisters, Insidious, Heavenly Creatures, Stigmata, Never Let Me Go, Eternal Sunshine of the Spotless Mind. THERE ARE SO MANY WE WILL BE HERE FOREVER.
Social Media: Instagram
Music: SOOOOOO Much. Current obsession: Die Antwoort (they make me laugh)
Writing Snacks: Water and chocolate mint sticks or pocky!
Thank you for having me on your wonderful blog! Be sure to come say hi and
follow me on instagram
, because I might just be listing a giveaway soon….!
About Author
:
Dawn Kurtagich is a writer of creepy, spooky and psychologically sinister YA fiction, where girls may descend into madness, boys may see monsters in men, and grown-ups may have something to hide. Her debut YA novel,

The Dead House

, is forthcoming from Orion/Indigo (UK) and Little, Brown Books for Young Readers (US) in 2015.
By the time she was eighteen, she had been to fifteen schools across two continents. The daughter of a British globe-trotter and single mother, she grew up all over the place, but her formative years were spent in Africa—on a mission, in the bush, in the city and in the desert.
She has been lucky enough to see an elephant stampede at close range, a giraffe tongue at very close range, and she once witnessed the stealing of her (and her friends') underwear by very large, angry baboons. (This will most definitely end up in a book . . . ) While she has quite a few tales to tell about the jumping African baboon spider, she tends to save these for Halloween!
When she was sixteen, she thought she'd be an astronomer and writer at the same time, and did a month-long internship at Cambridge's prestigious Cavendish Laboratories.
She writes over at the
YA Scream Queens
, a young adult blog for all things horror and thriller, and she is a member of the
YA League
.
Her life reads like a YA novel.

3 winners will receive a finished copy of AND THE TREES CREPT IN, US Only.



a Rafflecopter giveaway
-->
8/29/2016-
Lisa Loves Literature
- Interview
8/31/2016-
Bookish Fangirl
- Guest Post
9/1/2016-

NovelKnight

- Review
9/2/2016-
Once Upon a Twilight
- Interview
9/5/2016-
Pretty Deadly Reviews
- Review
9/6/2016-

Ohana Reads

- Guest Post
9/7/2016-
Such a Novel Idea
- Review
9/8/2016-
Bookish Lifestyle
- Interview
9/9/2016-
A Dream Within A Dream
- Review