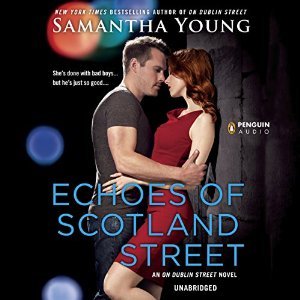 Book info:
Title: Echoes of Scotland Street
Author: Samantha Young
Series: On Dublin Street #5
Genre: New Adult Contemporary Romance
Published: October 7th, 2014
Source: Digital audiobook downloaded from public library
Samantha Young, I don't even know how to start this. I love her stories. And I cannot believe that in just over one month I'm going to get to meet her and go all fangirl!!! Sorry, but for the next month on my blog, I can't imagine I won't be throwing in little lines about how excited I am for NOLA Story Con. Anyway, this book was just another wonderful story, with wonderful characters, and yeah. Just so good!
The main character is a woman named Shannon. Shannon has had a hard life up to this point. She seems to have always picked the bad guy, and the last one, well he was the worst. And because her brother wanted to protect her and get back at this guy who hurt his little sister, her brother is now in prison. What's even worse is that her family, her parents and sister, blame Shannon for what happened to her brother Logan, and tell her they don't want her anywhere near them or for her to visit Logan, that she's already ruined his life. This is so hard for Shannon because her brother Logan was the only one in her family that she ever felt close to, and the guilt she has for him being in prison because of her own mistakes, well it makes her feel horrible.
So she's moved away from her family to Edinburgh, and she is looking for a job and a place to live with no money really, and no one to help her. Her first real try is at a tattoo parlor called INKarnate. She has some experience in that she had worked at a tattoo parlor before. She pretty much gets hired on the spot as they are desperate for a new administrative assistant. Even though she is trying really hard to stay away from "bad boys", she takes the job. Then she meets her new boss, Cole Walker. Cole is the younger brother of Jo from the second book in this series, Down London Road. He's all grown up now, and he's a tattooed hunk. And he fits exactly the image that Shannon has for bad boys. And she lets him know it right away. So from the start their "relationship" is off to a bad start. A horrible start, she really tells him off. Now those of us reading know that Cole is nothing like she says, and so it was very hard to read that.
Soon though, we learn what exactly happened to Shannon, and it's pretty bad. But Shannon also soon finds out that Cole isn't what she thought, and they are able to give in to the attraction between them. Things seem to be going great of course, but then something else does come up, and makes their relationship one they have to work for, and both have to decide just how much they are willing to give up or how hard they are willing to work for what could be true love.
This book was just as addicting as all the other books I've listened to from Samantha Young. And it had some really great sexy scenes in it. Cole, I totally loved him, as I thought I would, at least until the last little twist at the end. I was a little disappointed in him for that. But it worked out, as all her books do, the HEA is an important part of them. Again, I highly recommend this book, as well as the rest of the series.