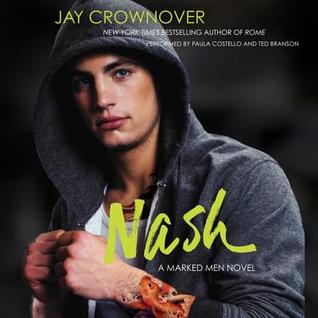 Book info:
Title: Nash
Author: Jay Crownover
Series: Marked Men #4
Genre: NA Contemporary
Published: April 24th, 2014
Source: Audiobook downloaded from public library
Right now all I can say is that deciding to go to NOLA Story Con last year because I wanted to meet Jennifer L. Armentrout, and go back to New Orleans again, was one of the best decisions I've ever made. Because of this author being on the list of those attending the event, I picked up her books and I fell completely in love with them! I'm pretty sure that Nash is one of my favorites, he's truly so laid back. But then also I loved this book because I totally felt a connection to Saint in her past of being not so popular and still not having much self confidence. Once again I also love all the tie-ins to past characters, and future book characters, including being introduced to some that are in the Saints of Denver series by this author, that I'm getting more excited to read now as well! As usual, I can't promise no spoilers for the earlier books, although each of these books could be read as standalones.
In this book as I mentioned above, the two main characters are Nash and Saint. Nash has just had a huge change in his life, his Uncle Phil is really sick, dying of lung cancer, and he found out in the last book that his "uncle" Phil, is actually his father. Nash's mother had never really been a very good mother. So much in fact, that at one point Phil had taken him in and treated him like a son. Phil taught him to tattoo, gave him some of his best tattoos, including the dragon tattoo that sounds so awesome! And now that Phil is sick, he is giving the tattoo shop to Nash, as well as wanting him to start a new shop in Denver with a building he's already purchased. Nash remembers Saint from high school, she'd had a locker by him, but they'd never really run in the same crowds. To him she was kind of the smart girl, he'd tried to be nice and say hi to her, but that was all, he was pretty much into partying at that time in his life.
Saint is a nurse, and has unfortunately run into Nash several times at the hospital. First with Rome back in his book, and now with Phil. Saint doesn't like Nash. Well, she did, a long time ago. When he'd been nice to her at her locker, for a while she'd developed a crush on him. But after something that happened at a party, where he didn't even see her there, and then when she overheard him telling his friends that he wouldn't be able to have sex with a certain girl unless she had a bag over her head, and he said it as she was walking by, she was devastated, and has carried that with her for her whole life. Even when she lost weight and knew she did look better, she never felt confident enough with guys. Never was able to really enjoy sex. And it had kind of cost her the one and only real boyfriend she'd had. But now that Nash is back in her life, seeing him all the time at the hospital, she remembers just how hot he is, and can't seem to stay away from him. And he seems to want to be around her. To the point that he even asks her out.
This leads to an interesting date to Rule and Shaw's wedding. She loves how nice everyone is, but it just brings her back to how uncomfortable she feels due to what she heard. And let's just say that Saint ends the date in a VERY interesting way. There's lots of back and forth before they soon try to get together. Starting with Saint finally telling Nash why she doesn't seem to like or trust him. And with all he is going through, he really tells her she's got to give him a chance, as well as she's got to give herself some credit and have some confidence, or they will never work. Keep in mind that it is not just what happened to Saint in her past, but also the fact that her father just left her mother after cheating on her, that makes the way Saint feels about not trusting men even stronger.
I love the story. Although, there are things Saint does that just make me so mad! And they are things that happen in a lot of books. She walks in on something that looks like a compromising situation, but instead of at least getting an explanation, she just leaves. Maybe it's because I'm from the Show Me State (Missouri), but I would have wanted an explanation! And there was one point when she just wasn't going to believe in love and I could only keep thinking to myself: "I just want to say to Saint, Believe in magic, you Muggle!!"
I loved the voice of the male narrator for this book. However the female narrator just read soooooo slow. Sometimes that was a pain when I was getting close to wherever I was going in my car, and I didn't want to get out because I needed to know what was going to happen next. There were great steamy scenes that made me blush while listening at the gym, and the beginning even started me out crying with the story of Saint's past. Once again though, I cannot wait to meet the author in September, and I really, really, really want my own tattooed guy like the ones in this series.