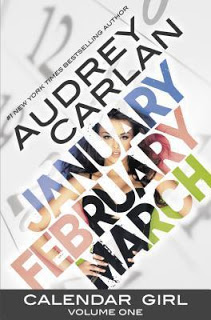 First things first.  I've been reading a lot more of New Adult books, ones that I wouldn't necessarily recommend to any younger readers of my blog, I just want to share my reviews of the books I read and love. So I've decided from now on I will start putting either NA for New Adult, or YA for Young Adult, in the title of the review. That way it will be obvious which type of book I am reviewing.  This blog isn't an educational one that I do for my students, but it is possible that I may have some who look at it, and I want to be clear about what I post.  Make sense?  Now on with the review.
I first heard about this book because the author is supposed to be a writing partner with my bookstore manager's sister.  I picked one up and read the synopsis, and it sounded like it could be a good, sexy read.  It was a good read.  The main character is Mia.  Mia's father owes a bunch of money from gambling to some bad people in Vegas, and they beat him up pretty bad, and tell Mia that she has to come up with the money, or next they might take it out on her younger sister.  The only way Mia can figure out to make that kind of money is to go to work as an escort for her aunt.  Now she is going to be an escort for very rich men.  They're not prostitutes. There is no sex in the contract.  If the customer wants it, and the escort, in this case Mia, is okay with it, then there is a bonus.  She will get like $100,000 each month, and if she decides to go further with them, it is an extra $20,000.  This volume has the first three months in it.
January she is with a guy who is a movie producer.  Which means she is in California, Hollywood, and he lives in a beautiful mansion, and he also surfs.  He tells her right off, that if they have sex, there are rules.  No falling in love, no sleeping in the same bed afterwards, etc.  But as the month goes by, they find that they get along very well, not only sexually, but personally and socially.  At the end of the month, when Wes asks her why she is doing this, and she tells him, he asks her to stay, not to go on with this, and he will pay the money she needs.  But Mia wants to do this herself, wants to take care of the debt on her own.  So she goes on, Wes telling her not to forget him, and Mia tells him not to wait on her, but if things work out, maybe she'll be back at the end of the year.
February she goes to Seattle to be a muse for an artist.  A nude model.  The artist is a French guy.  And while he is very sexy, and Mia gives into him as well, the love between them is nothing like the feelings that Mia and West had for each other.  In fact the artist, Alec, says that his love is more like what you might think of a casual European love.  Mia inspires him to create something very special, something that affects how she even thinks of herself.  When she leaves, she knows she probably will not see him again, but is happy with the time she had with him.
March she gets sent to Chicago to play the part of the fiance of a mafia type of guy, a guy who is part of a family that runs restaurants.  Turns out that Tony has a partner already.  A guy.  But his Italian family and all of their community are old fashioned, and Tony thinks they'd never accept him the way he is.  And when his mother loves Mia as his fiance, it makes it even harder.  Fortunately one of Tony's sister's does accept and pretty much kind of had the feeling that he was gay.  Eventually Mia must help Tony decide what to do. While she is in Chicago, she talks/texts to Wes several times.  Missing him in this not so real escort job.
When we finish the story, we find out who Mia will be working for in April, a young, professional baseball player.  I'm excited to read on.  This is definitely a very sexy book.  I mean, the premise is a woman being an escort.  So it's obvious what kind of story it is.