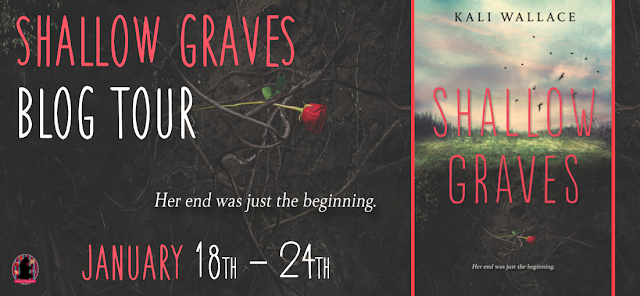 BOOK DETAILS: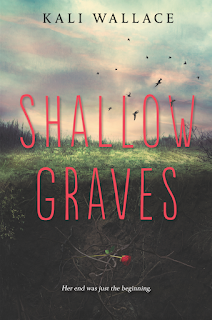 Shallow Graves
Author: Kali Wallace
Publisher: Katherine Tegen Books
Release Date: January 26th, 2016
Genre: Young Adult, Paranormal, Horror, Zombies, Fantasy, Thriller, Contemporary, Fiction, Mystery, Supernatural

Synopsis:
For fans of Holly Black and Nova Ren Suma, a gripping, hauntingly atmospheric novel about murder, revenge, and a world where monsters—human and otherwise—lurk at the fringes.
When seventeen-year-old Breezy Lin wakes up in a shallow grave one year after her death, she doesn't remember who killed her or why. All she knows is that she's somehow conscious—and not only that, she's able to sense who around her is hiding a murderous past. In life, Breezy was always drawn to the elegance of the universe and the mystery of the stars. Now she must set out to find answers and discover what is to become of her in the gritty, dangerous world to which she now belongs—where killers hide in plain sight and a sinister cult is hunting for strange creatures like her. What she finds is at once empowering, redemptive, and dangerous.
Tense, complex, and wholly engaging, Shallow Graves is a stunning first novel from Kali Wallace.
BOOK LINKS:
Goodreads: https://www.goodreads.com/book/show/22663629-shallow-graves
Amazon paperback: http://amzn.to/1PbAhkz
Barnes and Noble: http://www.barnesandnoble.com/w/shallow-graves-kali-wallace/1121727672?ean=9780062366207
Book Depository: http://www.bookdepository.com/Shallow-Graves-Kali-Wallace/9780062366207
iTunes: https://itunes.apple.com/us/book/shallow-graves/id985367604?mt=11
Kobo: https://store.kobobooks.com/es-es/ebook/shallow-graves-8
ABOUT THE AUTHOR:

Kali Wallace studied geology and geophysics before she decided she enjoyed inventing imaginary worlds as much as she liked researching the real one. Her short fiction has appeared in Clarkesworld, F&SF, Asimov's, Lightspeed Magazine, and Tor.com. Her first novel will be published by Katherine Tegen Books in 2016. She lives in southern California.
AUTHOR LINKS:
My Review:
I was lucky enough to get an ARC in the mail. So you've read the synopsis above if you're that far down into this post. This book was definitely a very unique story.
It starts with the main character, Katie is her name-she goes by Breezy though, being dug up out of the ground by a man she doesn't know. And when she touches him, she sees flashes of people, memories he has of killing these people. And so, she kills him. She can do it with a touch. Really when we join her in the story, she is kind of traveling across the country. She's gone to her home, where she realizes how long she's been dead, and that it probably wouldn't be a good idea to go and let her family or friends, know that she is back. She's sure she's still dead. There are all kinds of signs. And in her confusion and very acceptable depression, she does try to kill herself. Breezy soon finds that every way she tries to kill herself, well, it doesn't work. It doesn't seem like she can die. So as she travels, she finds people who are killers, and she kills them. Now, she doesn't know how she died, her last memories are of a fight with her best friend Melanie.
She meets a boy named Danny at the first place we really start to get into the action of the story. He gives her a flyer about a place that she can go if she is lost and needs help. She ignores it, and goes on with the person she's chosen to take care of next. But soon she decides she should go to this place, where a man named Mr. Willow, a pastor or preacher of some sort, is in charge. When she finally gets to this place, she meets a girl named Violet. Now there is something familiar about Violet. And while at first Violet is very friendly and leads Breezy around to show her the place, at one point, she tells Breezy to run, not to stay. But it's too late. A man named Lyle helps Mr. Willow by chasing Breezy and bringing her back. They knock her out, and when she wakes up she is in a cellar with another person.
That person is a woman named Rain. And she explains to Breezy that they are being kept in the cellar by magic. Soon they make a plan to get out, Rain tells Breezy she should go see a witch named Ingrid. Breezy doesn't know what she is exactly, is she a zombie? And the witch can help her figure it out. Rain calls someone to help them escape, and give them a ride back to where she's from. His name is Zeke, and he is a ghoul. Zeke and Breezy have a bit of a connection, and it seems he is only helping Rain because of a favor he might owe her or something. He doesn't trust Rain, or the witch. And he cautions Breezy about talking to her.
There are so many twists and turns with this, Breezy will find out what she is. We will learn about other types of supernatural creatures and how they get by in the world. We will learn what the bad Mr. Willow is hiding, and it will be something worse than Breezy can ever imagine. My only complaint is that I feel like there were a few characters that were thrown in, yet their storyline didn't really go very far, and I could see that they might be something that could be in another story set in this world. However as far as I know, this is a standalone. It does end fine for a standalone, I was just left with a few questions about one or two characters and why we had so many details about them, when they really didn't do much for the story. The main one that sticks in my mind is Ingrid's son.
Overall a good story, creative, different, and many twists to keep you turning pages.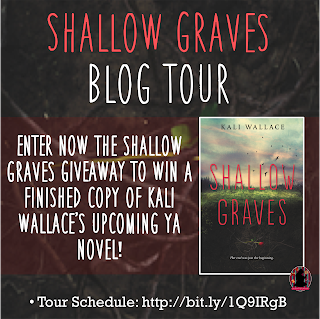 GIVEAWAY:
Prize: Win (1) hardcopy of SHALLOW GRAVES by Kali Wallace (US Only)