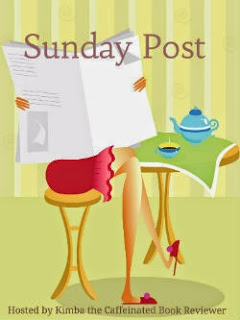 The Sunday Post is a weekly meme hosted @ Caffeinated Book Reviewer. It's
a chance to share news ~ A post to recap the past week on your blog,
showcase books and things we have received and share news about what is
coming up on our blog for the week ahead. See rules here: Sunday Post Meme.
Last week on the blog:
Got three reviews this week, even though one was on another blog. Made my goal of one post a week as well. Had my birthday this past week. No book gifts, although I did get Pitch Perfect 2 DVD finally, and a gift card to the movies as well. I had a writing date with my friend on Friday to get ready for NaNoWriMo. I've got a few books started this week. One that I don't know if I'll finish. It is really so much of just this background information about a tv show, one I do love, but it almost seems like that is at least 50% or more of the writing so far. Will be thinking about emailing the publisher that I won it from and letting them know I'm not going to finish it. I also got the new iPhone 6S this week! Getting used to it and getting it all set up with what I need.


This week on the blog:
Promo Post: Life After the Undead by Pembroke Sinclair
Review: Willful Machines by Tim Floreen

Cover Characteristic: Eyes

Promo Post: Somewhere I Belong by Glenna Jenkins
Promo Post: The 13th Brigade by Ky Lehman
Possible Reviews: The Heir by Kiera Cass, Persuasion by Martina Boone, Miss Mayhem by Rachel Hawkins
I should be less busy this week. Hoping that means I can get more reading done. But that sounds like something I think almost every week. I have been making sure to read more before bed, although I'm trying not to use my Nook, because they say that can make it harder to sleep if you look at those screens right before bed. I have a Halloween party next Saturday night that I'm looking forward to. Then next Sunday NaNoWriMo starts! I am not feeling as confident as last year, because I pretty much knew where my story was going. This year, I don't quite know how it's going to end. But I'm told I have to just start writing and see where it goes. Also, my October New Release Giveaway Hop ends on Saturday, so make sure you go enter HERE.
Stacking the Shelves is hosted by Tynga's Reviews.
It is a way for us to share the new books we have collected. I didn't buy any actual physical books this week. But I did get several free e-books, and several cool e-galleys.
E-galleys:

The first two I had to request, and I got approved. I'd just set up Wax as a future WOW as well! The other three I'm automatically approved for, so I will see if I actually download them.
Free e-books:
The first one was Nook book, the others were all free on Amazon.
So that's what I added to my shelves this weekend. What did you add to your shelves?