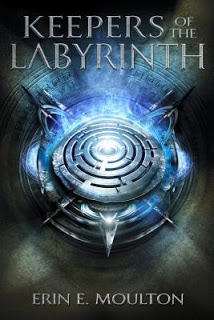 First, thanks to the author, Erin E. Moulton, as well as her publisher, Philomel Books, for sending me an advanced readers copy of this title to review. I got a little behind, and didn't get started and finished till this past weekend, and the book came out on Tuesday. I was ready to do a review on Tuesday, but then my time got away again, crazy busy stuff at school, so I am a couple days late with my review. I am very glad to share my thoughts on this one, as I'm sure there are many out there who will enjoy it.
The main character is Lilith Bennette. Her mother killed herself a few years ago, but it was entirely unexpected, as there was never any suggestion of depression or a reason for her to do that. Now she has the opportunity to go to Greece, Crete to be exact. She's been invited to a leadership conference, one that her mother also attended when she was younger. She's hoping to learn some things about her mother, especially from a person she sees in a photo of her mother from that time.
When she gets there, she finds different kinds of girls. Some that she seems to get along with right away, and that she fortunately gets teamed up with. Others that are snobby, and seem very rich, in a way that they lord it over the other girls. Lil's teammates are not the rich ones, some of them, most of them, are there to win a scholarship given to the winning team.
Readers get a little bit of extra information, first there are people at Melios Manor, the instructors actually, that we get a glimpse into one of their rituals, as well as a discussion. There is also someone out there who seems to be after something there. He goes by the code name of Hermes, and well, he doesn't sound like a very nice guy.
The girls will get some great experiences in solving riddles and puzzles based on what they know about Greek mythology, as well as some major team building type of activities that include very athletic types of tests. When Hermes shows up, things go downhill quick, and to get away from him and his crew, the four girls will have to go into a labyrinth and solve even more riddles, and find out that what they've always thought were the stories, weren't quite the way things were.
I loved all the mythology "change", the way that you could kind of turn the myth into a different story, but still stay true to the original, or well known version easily. The trip through the labyrinth really reminded me a lot of the movie The Goonies. Solving riddles, and all the dangerous booby traps and paths.
If you are a big fan of mythology retold, kind of like the Percy Jackson series, or dangerous adventures like in The Goonies, then this is the book for you!