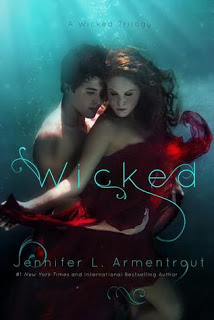 Once again I'm pretty sure I can't express just how much I have fallen in love with this author's books. While this one had a few issues that probably needed maybe a closer editor for little slips, it still had great characters, and really hot, sexy scenes. I would definitely say this is New Adult and not YA though.
The main character is Ivy. And Ivy is part of an organization that is tasked with killing the fae, and any other Otherworldly creatures that might be around. She was raised to be part of the organization until her parents were killed, at the same time her boyfriend was killed. And now she is living on her own in New Orleans. Well, not completely alone. She has a brownie that lives with her. And no one can know about Tink, as she calls him, because she really should have killed him when she first saw him. She's also going to college. Trying to somewhat have a normal life outside of the Order. But she doesn't want to get close to anyone, not after what happened with her parents. So she lives vicariously through her best friend Val, who is a bit of a wild child. And then a new guy comes to town, Ren Owens. He is also part of the Order, come from a Colorado group. He has piercing green eyes, dark hair, and a very sexy grin, that goes along with a pretty sarcastic and sexy sense of humor. And Ivy is drawn to him, even against her rules about getting close to someone. Especially frustrating is just how annoying he can be. But it's annoying in a fun way, as she is always having to hide a smile at the things he does to annoy her. And he seems to be interested in her as well.
Something is going on, there have been two Order members who have been killed in the line of duty. And Ivy runs into a Fae that barely looks different from humans, isn't hurt by the iron she stakes him with, and pulls a gun out of thin air that he shoots her with. She finds out this is an ancient. And it is very rare to see them. But while her leader dismisses her story, Ren believes, and tells her more about ancients, and about why he's really come to New Orleans. Ivy learns more about the fae, as well as ancients, and even more about the Order. She learns of halflings, half fae, half human creatures, that are part of a prophecy that could spell disaster for Earth in opening one of the gates to the Otherworld. In all of this she gets thrown together with Ren, and the attraction proves unresistable. All the while there is a traitor in the Order, and possibly a halfling they must find and destroy.
I thought this was going to be a single story, but no, it ended with a big cliffhanger, and I need to know what happens next! Supposedly book 2 was supposed to be this summer according to a blurb in the back of the book, but according to Goodreads it's not expected till 2016. This is definitely another must read from Jennifer L. Armentrout. I love all the different pop culture references in the story. There are Buffy the Vampire Slayer references, Harry Potter references, too many to even list them all. Some that aren't even stated exactly what they are, you just know if you are a fan of that specific topic.