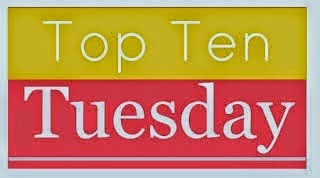 Top Ten Tuesday is sponsored by The Broke and The Bookish. Now, I try not to do too many extra posts when I'm doing the A to Z Challenge, but this is a topic I couldn't pass up. I love to talk about my favorite authors! As well as promote some that I think need some love. The top this week is a hard one, how can I only pick 10? The instructions for today say that you could narrow it down to maybe just one genre, or make a list of 20 if you had to. I'm going to do my best to stay at 10, so just know that there will definitely be authors left off that are really, really awesome. These authors I'm going to share are ones that I either will pretty much auto-buy their books, or ones that not only have I loved one of their books, but they are really awesome to meet or talk to on social media. This is so hard!!!


1. Stephen King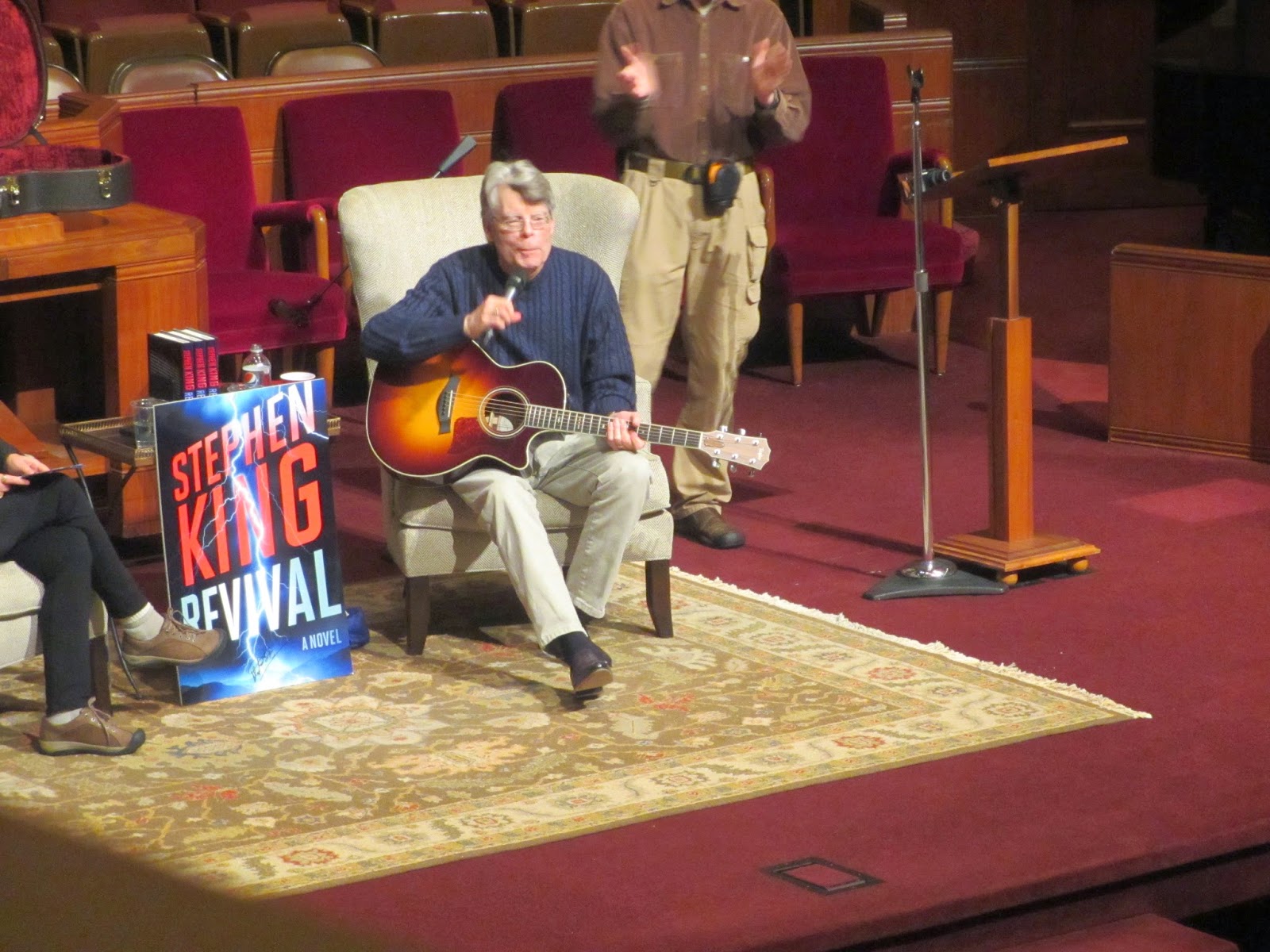 This past year I got to be in the same room at the same time as Stephen King. Didn't get to meet him personally, but still this was pretty exciting. For the most part I love all of his books. I'm not that into his Dark Tower series, I read all the ones up before he took that little break, and now I just need to read the others. I'm just not sure if I'll be able to remember enough to get back into them without going back and re-reading the others, and I know that I'm not going to do that.


2. Dean Koontz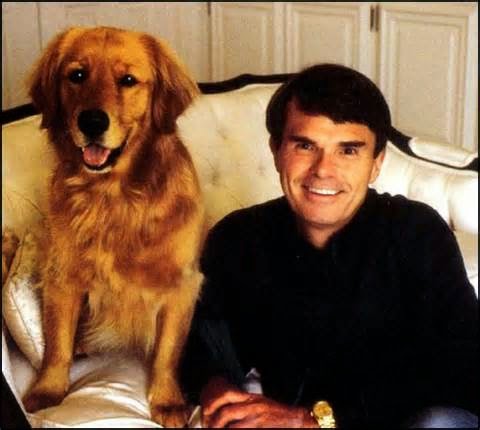 I would do almost anything to get to meet him. His love of dogs, and how he writes about them just makes him one of my favorite authors. While I'm a few books behind in his Odd Thomas series, and there was a recent book of his that was almost too "dense" for me, I still will pretty much buy and read all his books at some point. Well, I take that back. I don't know that I'll read his Frankenstein series.


3. Robert McCammon
I have almost all of his books. There was a time when his books were auto-buy for me. In doing this blog post I just saw that he has a new book coming out that they say is more like the way his book Swan Song was, which is one of my favorite books! So just added that on Goodreads!


4. Cara Lynn Schultz
Cara, and I call her Cara because we've met and hung out in person, like you see in this picture, was one of the first authors who I read their book from Netgalley. I read it, you see it in the picture there, Spellbound, loved it, and immediately found her on social media. We tweeted back and forth, etc. Then when I went to visit my sister in NYC for the first time, I kind of hinted asking if she might be willing to meet up some where so that I could meet her and get an autograph. And you know what? She did! We met over close to Bryant Park by the library where Carrie almost gets married in the Sex and the City movie. We went and had a drink at a little bar by the ice skating rink and talked and hung out for a long time! I will always be pushing her books, as I love the characters in them. They are totally people that I want to hang out with, they make me laugh when I read their conversations, and the stories are really unique as well. Plus I love all the NYC stuff she throws in, especially now that I've visited and can picture those places in my mind. (Please go buy her books if you haven't read them yet!!)


5. Maggie Stiefvater

So yeah, I've met her like 5 times. And, one of the times, the first year I got to go to BEA, a publishing company found one of my pictures, the last one you see in above, and wanted to put it in a biography about her. I love her books. Again, it is the wonderful characters that I fall in love with. I feel like I used to get to talk more to her on social media as well. There was a point when a very small side character in The Raven Boys might have shared my last name. But alas, that character got cut. I think she recognizes me now whenever I go see her. But I feel like maybe she thinks I'm stalking her? Guess I might need to cut back on going to events to see her. But I do need all of my books to be autographed if I get the chance, right? Sorry Maggie, I'm not trying to be a creepy stalker! I promise!

6. Heather Brewer

-->

Another awesome author I've been lucky enough to meet more than once. I not only love her writing, but as an online presence she is wonderful. She is really there for all her fans, or minions as she calls them (us). She speaks out about bullying, as someone who endured it in her past. She is very open about her own depression and feelings, and I love that about her. I think she is such a neat person. Her latest book, The Cemetery Boys, was one I really enjoyed and am currently featuring as one of my staff recommendations at the Barnes and Noble where I work part time.

7. Jonathan Maberry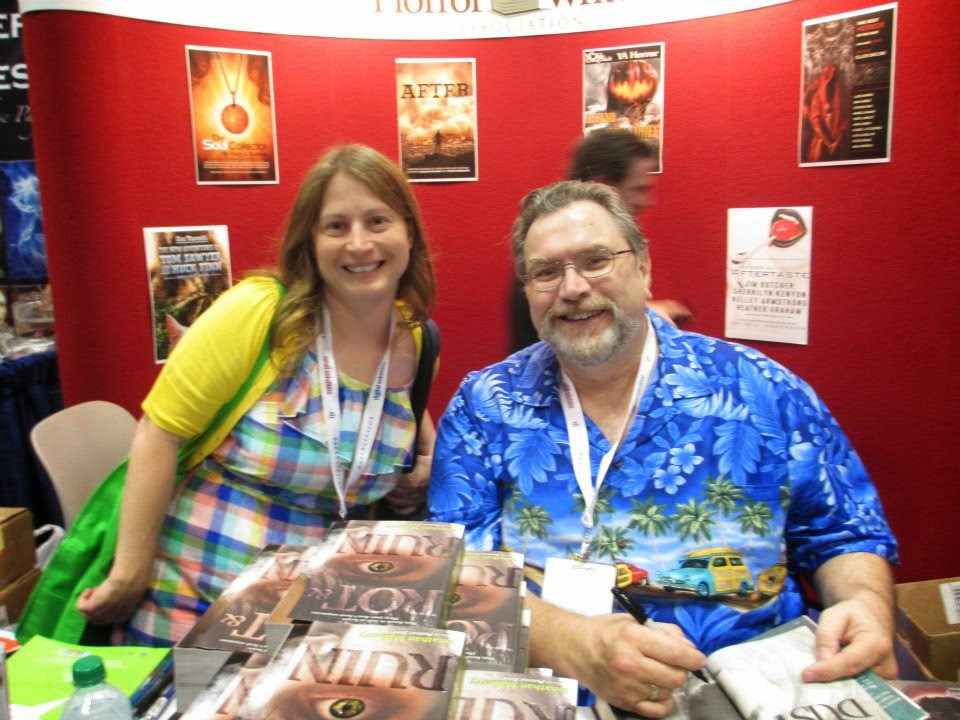 This is another author I've had several opportunities to meet. I love his Rot and Ruin series. He is also a great social media presence. From interacting with him online I won a contest to get to name his next book in that series. It is a collection of short stories from the world, and it has been available as an e-book, but will come out in hard copies later this year. The title I helped come up with is Tooth and Nail. Can't wait to own a copy of it!
8. A.G. Howard
I love, love, love the Splintered series and was so excited to get to meet the author last summer at BEA.
OMG, OMG, OMG!!!!!!! I only have two more spots and I can't decide who else to include!!! If I don't include you, just know it's not because I don't love you!!!! I think I'll post the next two on authors that I've read a ton of their books.
9. William Sleator
This author has passed away not too long ago, but I loved all of his books. The Boy Who Couldn't Die, House of Stairs, you name it, I devoured it if I could get ahold of it. 10. Margaret Peterson Haddix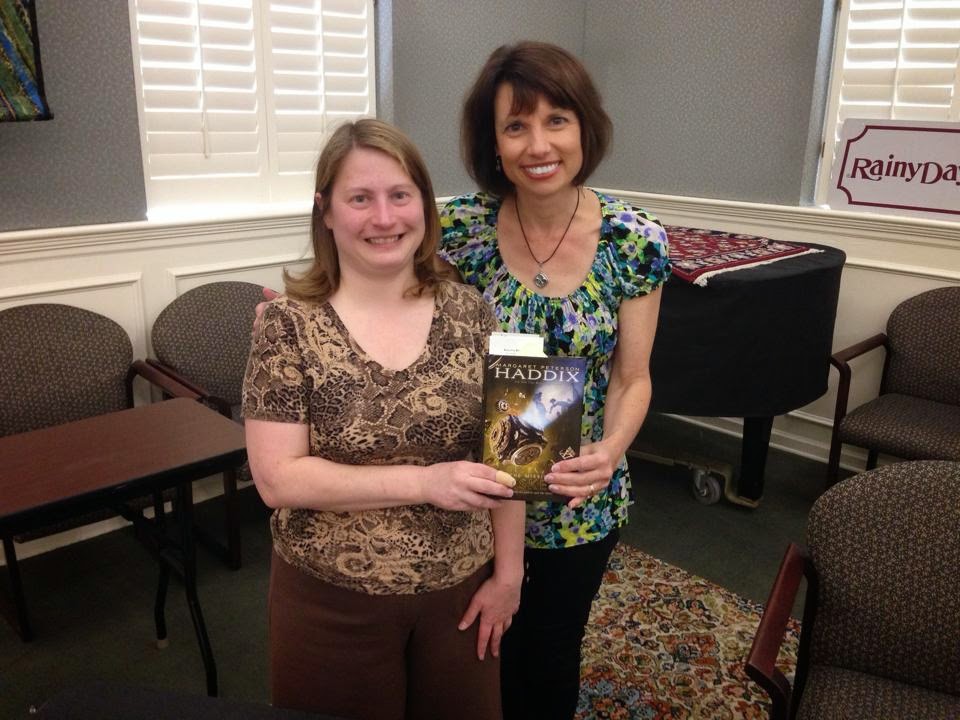 I have loved all of her books I've read, I believe the first of which was The Shadow Children series. I got to meet her last year, which was very exciting. I am behind in her Missing series right now, but need to catch up! Oh my gosh, so many more I want to talk about: Michelle Madow, Tessa Gratton, Brenna Yovanoff, James Rollins, Steve Alten, Douglas Preston, Michael Grant, CJ Omololu, Jackie Morse Kessler, Kiera Cass, Kimberly Derting, Jennifer Brown, the list goes on and on. If you were going to do this, who would you pick? Could you easily narrow down to only 10 favorite authors? I know I didn't really do very well, but tried! If you have time, you should stop by and enter into my A to Z Challenge giveaway on any of the letter posts, like my R Post today.