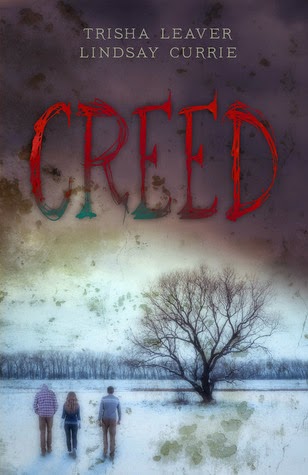 First, thanks to Netgalley and Flux Publishing for allowing me to read an e-galley of this title. This was a good read. One that kept me turning page and after page as it flowed in a manner that kept me hanging on the edge of my seat that I had to know what was going to happen. In the end it got a lot darker than I really thought it would. Not in a bad way, but in a pretty realistic way honestly. I'm not really happy with how it ended. While the main gist of how it ended does again seem realistic, it kind of felt too, I don't know. I've thought about it for awhile, but can't think of the exact way to describe it. Let's just say I needed more at the end. But clear up to the end? Well that was a wild ride!
The main character is Dee. Dee's life has been a hard one. She came from an abusive family. Only in the past few years has she lived with a wonderful adoptive family, the Hoopers, and elderly husband and wife. And she also met a boyfriend who has been exactly what she's needed to come out of her shell and feel safe again with people. Her boyfriend is Luke. The story is about a trip she is taking with the two boys. A trip with a surprise concert at the end for Luke. It is a gift from Dee, and his brother Mike is in on the secret to help her get him out and away for the weekend trip without getting in trouble with either of their families.
Along the way they run out of gas. It's a snowy night, and where they're stuck there doesn't seem to be much traffic. So they begin walking to the nearest town. Only when they get there, emergency sirens are going off and the town is deserted. They try to get gas at a gas station, but the pumps are shut off and without knowing the password, they can't get them turned back on. So they find a house to spend the night in. All the houses are empty, and there's something creepy about them. They all seem to be almost exactly the same. In the morning they decide to start walking again and see if there are any outbuildings around the town that might have fuel they can get for the car. But along the way they are met by a boy about their age named Joseph. Joseph needs their help to save his younger sister from their father. The leader of this town, which sounds to be like a cult. This will not be as easy as hoped. Dee will have to figure out how to escape Joseph's father, Elijah, who plans to marry her. And Mike and Luke are being held and tortured in a way to try to keep Dee complacent and doing as Elijah says. But how far will Elijah go to force Dee's hand? He's already cut her several times in the way that they bleed their members to let the evil spirits. And what is in the box that he gives her when he tells her they will be getting married, well that is just a preview of the darkness that he will inflict on Dee, her friends, as well as his own son and nephews.
A great read. Like I said, the whole story is the kind that you can't put down because you just think, okay, I'll read until they get out of this mess and have a minute to rest. But every time one thing might seem to be fixed, something else happens that is more to deal with. And each new thing seems to be heavier than the last.