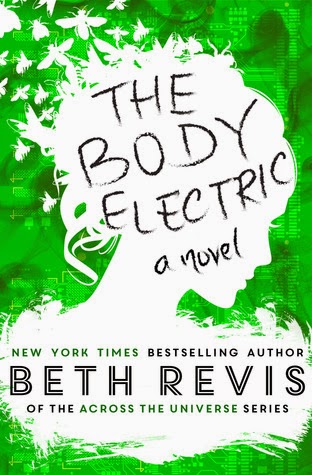 First, thanks to Netgalley and Scripturient Books for allowing me to read an e-galley of this. It actually got it after the book had been released, but I was very excited to see it. I am a huge fan of the author, Beth Revis, as I loved her Across the Universe series. And this one sounded right up my alley as well. Another science fiction story.
The main character is Ella. She and her mom work at a Spa type place that offers something only to the extremely rich called Reveries. Reveries are something where they can hook into your brain and make you experience a really good memory. It is something Ella's mom came up with, but hasn't wanted to turn it over to the government to make money. She wants to keep it as something nice to help people. Ella's mother is also dying from a disease that is incurable. When her mom first got sick, Ella's dad who was working on artificial intelligence, figured out a way to add nanobots that would help her stay healthy longer. In fact, in this day and age, in part thanks to Ella's father, every person has nanobots that help to keep them from getting sick among other things like that. Ella's father was killed in a terrorist attack though, and now it is just her and her mom, as well as the main owner of the Spa, Ms. White. Ella is doing her internship at the spa so that she can be close to her mother. As the nanobots aren't going to keep her mom alive forever.
One day when her mom takes a bit of a turn for the worse, Ella goes for a walk. To where her father's grave is. Although in this day and age, no one is buried anymore. Instead they are cremated. But if you are someone rich, or important, like Ella's father, they will do something like plant a tree for them with a monument/gravestone. And when Ella gets to her father's, she sees a young man standing there, as if he too is talking to her dad the way she plans to. She doesn't recognized the boy, who says his name is Jack Tyler, but he seems to think they once had a past. And he leaves her a cryptic message, that when other things besides her mother's sickness start to go wrong, she turns to that message for help. She has been enlisted by the ruler of their country to use the reverie to try to see inside a Representative's brain. One who they hear has been approached by a terrorist group. And they hope Ella can get the information out of his head.
But as I said, things will go wrong. There are androids/robots in this world, but no one has been able to figure out how to make them think for themselves yet. Ella's father had been working on that before he died, but all his notes and work were lost in the explosion. And as more and more goes wrong, Ella begins to wonder just who is really on her side. Her friend who is on the moon at the military base for her internship seems to be not who she once was. This Jack Tyler may have worked with her father, and she even wonders if her father might not have been the man she thought he was. She will have to determine if she really wants to help the government, or if the terrorists are really terrorists.
Such a great story. The love story was okay because she didn't remember him even if he remembered her, so she was able to develop real feelings. And there was at least one twist at the end that I wasn't expecting, so it was a great ending. No cliffhanger, or love triangle, I highly recommend this for a great sci-fi read. Very Isaac Asimov is what I thought as I read it.