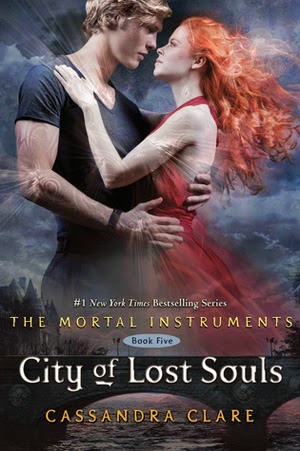 I've had this book for at least a year, and decided to get to it now that the final book is out. And it will definitely contribute to my Prequels and Sequels Challenge that I'm doing. Now, I remember the end of book 4, but there was a lot of details that were a bit fuzzy. Fortunately I was able to get right back into the book and not feel lost at all. I have to say that I really enjoyed this one, and am extremely excited for the final book. Guess I'll have to purchase that sometime soon. When I have some money that is. Now, obviously, if you haven't read the books before this, you should probably STOP right now. I promise to do my best not to give any spoilers on this one, but can't promise anything about the past books.
The one thing I remembered from the last book is right where we kind of start off. Sebastian, Clary's brother, had been dead, but now had disappeared, along with Jace, during the short time Clary went to let the others know he was okay. Clary is having to deal first with the Clave, who have basically put her on trial for what she did in order to save Jace's life. The Clave gives up on searching for him, or at least puts it on a back burner after they decide Clary is not guilty of anything really bad. So of course Clary, Alec, and Isabelle decide they must continue the search on their own. Of course Simon will be there to help Clary, and Magnus will be there for Alec. But then Jace and Sebastian show up, and Jace says he just wants Clary to come with them, and be with him. Clary's mother, Jocelyn, tries to kill Sebastian, but Clary knows that killing Sebastian will kill Jace because of how they have been bound magically. So as she goes to stop him, Luke, her mother's boyfriend, gets shot with something that has demon blood on it. And this poisons him. And now Jocelyn wants to take Clary and go somewhere that Jace can't come look for them. But Clary feels that if she went to Jace and Sebastian, maybe she could figure out how to get Jace back, and also find out what Sebastian is up to, in order to try to stop it. So she goes looking for Jace. And finds him. From then on she is staying with them, trying to find out what is going on, and also trying to stay near Jace. But she knows this Jace isn't really her Jace, even though it is obvious this Jace still loves her. At the same time Alec and Magnus are trying to find a way to separate Jace and Sebastian, or even to just find a weapon that could hurt Sebastian while not hurting Jace. There is an attempt to get a demon to help them find a weapon. To get an angel as well.
Simon and Isabelle's relationship is still going along, both trying to figure out where they want to be. Alec is so unsure of his relationship with Magnus. The fact that Magnus is immortal, and has had such a long life before him. When someone offers to take away Magnus's immortality, Alec doesn't know if that is something he wants done or not. Many people are coming out and trying to make deals. The Seelie Queen, the vampire Camille, even the Vampire Raphael. Many, many things all come together in this story. But it's not too much, at least it wasn't for me. Everything was very well developed, the emotions of the characters, all of it. As I said, I am so eager for the final book now! It wasn't a huge cliffhanger ending, but that's okay, I'm back in that world, and so ready to go on and find out how it will all end.
I didn't get to officially meet Cassandra Clare at BEA, as I chose to wait in line for Maggie Stiefvater instead. I did get her autograph though, and a wave from her, but no picture unfortunately. I will definitely hope to get to meet her some other time.