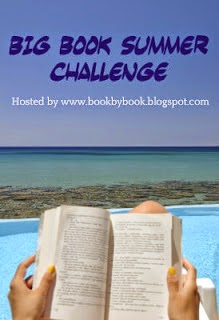 I recently found this challenge over at Book By Book, and I thought it sounded great, especially as I found it right as I was starting a book with over 500 pages. And for this challenge, you only have to pledge to read ONE book over 400 pages. So how simple is that? This challenge started on Memorial Day weekend, and will run until Labor Day weekend which is September 1st this year. All you have to do is write a post like this one, announcing your participation, and then at the end post about how well you did. If you want to you can review the books, which I will, but that isn't even required. You can list the books you intend to read if you want, but that isn't even necessary for your beginning post. I am going to list my proposed books below, one of which I'm actually in the middle of reading at the moment.
City of Lost Souls by Cassandra Clare
Light (Gone #6) by Michael Grant
Conversion by Katherine Howe
The City by Dean Koontz
White Space by Ilsa J. Bick
Now the last one I actually started a bit back, but wasn't able to finish, so I'll try to read it again this summer, but it's probably one that I may not get to. I'm having some major surgery next week, and so figure I'll have lots of uninterrupted time to read while I'm recovering.