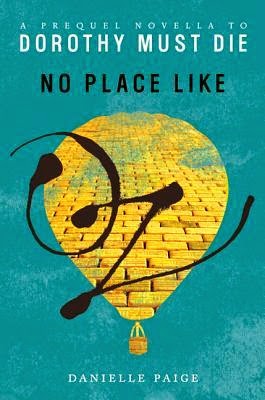 When I saw this was available as an e-novella, I had to purchase it right away. I bought it before I got ahold of the ARC of Dorothy Must Die, but just didn't get around to it until after I read it. It was nice to read this because it did kind of answer some questions I had as I read Dorothy Must Die. If you go back to my review that I liked to above, you can see what my questions were.
As it says, this is a prequel. In No Place Like Oz we join Dorothy about 6 months I believe after she returned from Oz. But when she gets back, she finds that she really, really misses Oz. In fact, you kind of see a connection in the way she feels about Kansas compared to the way Amy Gumm felt about it in the first book. It is just about time for Dorothy's birthday, and at the party she begins to feel like she misses Oz even more. Her Uncle Henry and Auntie Em are having some issues with raising money with the farm these days, and so the cake doesn't turn out so great. And when her best friend shows up, she sees that her tales of Oz may have lost her to other, more well-to-do girls in the town. Dorothy gets upset at one of her gifts and runs to shut herself in her room. Under her bed is a gift from Glinda! Some bright red shoes. When she puts them on, she makes a wish, and she is back in Oz. Only, not alone. Her aunt and uncle end up there as well. And they are not happy to be there. They want to get back to take care of the farm. But they land right by the old house, and there is a message from Glinda that she is in trouble. So Dorothy sets off on a journey to find and help Glinda. While many years have passed in Oz compared to the short time that passed in Kansas, she is still able to find all her friends, as well as meet the Princess Ozma, and begin looking for Glinda. But she gets a taste of magic, and loving the life she lives as a hero there, and gets really irritated about her aunt and uncle who just keep harping about going back.
It's a different Dorothy than we know from The Wizard of Oz, but that's okay. A trip like she had would change anyone. Another great read, that while it gives you an idea of what is to come, it doesn't tell us every detail leading up to Dorothy Must Die, and that is just done perfectly. Read it before or after, you won't be disappointed either way.