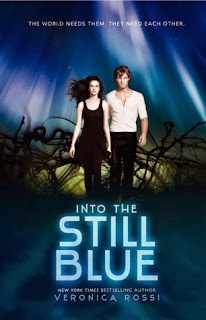 Once again a trilogy that ends on a great note! There were definitely some deaths that sucked. But it wasn't anything that ruined how the story went or ended. Of course, I first need to say thanks to Edelweiss and Harper Collins for allowing me to read an e-galley of this. It was so hard to finish the book, knowing that this was a trilogy, and now it was over. I want so much to read on in this story and find out what happens next. As I've seen others post on Goodreads, I would also be happy with a story on Roar. Maybe we could go on with the story, but from his point of view. Or whatever girl he might be able to find love with after losing Liv? I don't know. I just know I'm not ready to leave this world. Okay, I will try not to spoil the story, but if you haven't read the first two, you should probably stop reading now.
We start where the 2nd book left off. The Tides, as well as whatever of Aria's people from the pods that left with her are now living in the cave. Hess and Sable have their own people, as well as Cinder. Roar and Perry are still having issues, but Aria needs them to talk and get their friendship back on track. Aria and Perry are not going to hide their relationship anymore. And the big goal now is to get Cinder back. And maybe, just maybe, get the people in the cave to the Still Blue. This is something that needs to be done, so they don't end up having to live permanently in the cave. The aether storms are getting worse. The people from Aria's home are scared of the Tides and other people in the cave. Aria must figure a way to get them to all work together so that they can figure a way to go rescue Cinder and save themselves. They have a plan, but of course there will be obstacles. Sable is quite the evil man, and soon Hess even figures out he is being double crossed, but when he tries to work a deal with Perry and Aria, it doesn't go so well. There is also someone from Aria's past that we meet in this book, and it even leads to a new way of life or at least of thinking for her.
This final installment has tons of emotional bits, lots of adventure and action. Even moments when you just know that the good guys have to be defeated, that you just know someone important must be dead, although you hope not since there was never a definitive scene showing that. And in the end, well, it pretty much ends on a great note. I don't believe you'll be disappointed with how it ends, just as I wasn't.