First I'll start this post with my review of my 11th, you read that right, 11th novella of the month! My goal was only 8, so I'm so glad I passed my goal this time. Anyway, this was basically a preview to the Under the Never Sky series by Veronica Rossi. Now, I haven't actually read past the first book, and I actually got to read that as an e-galley, so I'm really behind on the series. But this was a good way to get my head kind of back in the series since I got the 3rd book as an e-galley, and now I need to get the 2nd book from the library. Now since it has been so long since I read it, it took me a minute to remember who Roar and Liv even were. I had to remind myself that they weren't the "main" characters of the first book. Perry and Atria are from the first book, but since this is before, there is no Atria in the story yet. Roar is Perry's best friend, and Liv, Perry's sister, is who Roar is in love with. We met Perry's older brother in the first book, and he is just someone it is really hard to like. The way he treats Perry, and you get to see it even more in this story, especially as he decides that he must send Liv as a wife to the leader of another tribe to save his own people. We get to really see how Perry has acted with girls before he met Atria. I think this was a great way to learn more about the tie between Roar and Liv, and how all of that, plus Perry's relationship with his older brother Vale, really influenced Under the Never Sky. So, yet another good novella.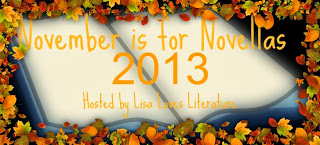 And now for the wrap up! First I'll share some really exciting news for the 2 people who participated, I decided I was so thankful that they signed up, that I would give them both the prize I was offering, a novella of their choice. And to make it easy, I'm just going to send them a $5 gift card to their choice of either Amazon or Barnes and Noble. Now, on to my results.
My goal was to read 8, and as I mentioned at the start of this post, I passed that goal and moved right on to 11!! I actually only read 5 of the ones I planned to read if you look at my original November is for Novellas Challenge Post:
Roar and Live (Under the Never Sky 0.5) by Veronica Rossi (See above)
And then the other 6 I reviewed are listed below. The first one is actually from the same series as I planned to read one from, just a different novella.
And so, because I did so well, I think maybe I'll reward myself with another novella as well! This was a great challenge, and I've also learned that it sometimes helps to read one of these short stories before I start a new novel. That whole book hangover thing you know. It helps to be ready to really get into another book, without quite being ready after you finished another one. I think I'll try to do this again next year. I hope maybe I can get some more people to join in next year, but thanks to those two who did this year:
Pili
and
Jackie
.