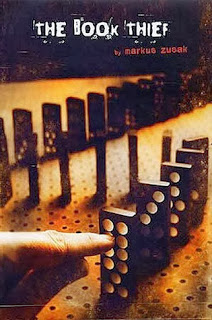 Yes, I know I'm way behind everyone else on this one. I've been meaning to read it for awhile. But it was a big book, and I just had so many other things to read, that I just kept putting it on the back burner. Finally I decided that it was time to read it before the movie comes out this November. So when I finished my last book, I went ahead and checked a copy of this one out from the bookstore where I work. And, once I picked it up, and got past the first 20-25 pages, I was hooked.
I loved this family that Liesel ended up with. Her new mother Rosa, loved the way she was so grumpy, but you knew that it was done with love. And her new father, Hans, just the way he stayed with her every night because of her nightmares. And then her best friend Rudy, so funny, and what a great friend! I've always had to read everything I could on the Holocaust. Most of those books were told about Jewish people, and what they survived, or didn't survive. This is truly a story of a basically "normal" German family. They don't seem to have any reason to necessarily be against this war. In fact Liesel is even in the Hitler Youth Organization at school. When they do take in Max, a young Jewish man, it isn't because they are trying to fight what is going on in their country, it is because of a favor Hans owed to a friend in World War I. It was just so interesting to read about the German side of the story. While it is unforgivable that so much happened and nothing was done about it, this look at how it could have happened, is a great insight. The fact that the author says he got his ideas from his family telling stories of their old days in Germany makes it even more fascinating. The raids on the town, the fact that here the Germans were promised if all the Jews were taken care of they would be prosperous, yet here many were still living without enough food. Most of what happened in this story just seemed so realistic in the way things happened. Not everyone lived happily ever after. But not everyone stayed maybe the way you would expect all Germans to stay. Just because they were the good guys, doesn't mean they all survived.
Other parts of the book that I really liked, the books/drawings that Max made for Liesel. The story that Liesel ended up writing. I liked that what could have become a romance, Max and Liesel, never did, it stayed as a brother sister relationship.
This was a book that was 550 pages long. I started reading on Sunday, and finished on Tuesday. And I would have been finished sooner had it been summer time and I hadn't had to work Monday or Tuesday. Now, I'm just waiting to see the movie, and I can only hope that they will not change too many things that will take away what makes the story so great. I mean, look at what happened with the Hunger Games, while it was a great movie on its own, the parts of the book that I really liked, that made it what it was, were left out.
Anyway, I guess I am now one of the people that will just gush and gush about how wonderful this book is. How about you? Have you read it? What did you think?
P.S. – While you're here, make sure you go check out my Fierce Reads Giveaway HERE where there will be 5 winners!!