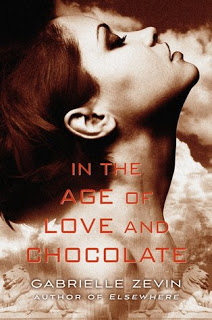 First I must say thank you to Farrar, Straus, and Giroux, as well as Edelweiss, for allowing me to read an e-galley of this. I have the first two in the series in actual physical ARCs, and I had emailed the name on the back of them to ask to get on a list to get the 3rd ARC so that I could have a matching set. Alas, the agent emailed back and said they wouldn't have ARCs this time. So I searched until I at least found an e-galley. As with the first two, I was not disappointed. I really just love these characters, and the storyline.
With all that had happened in the last book, we begin this one with Anya wanting to open a cacao night club in this futuristic NYC. Since chocolate is illegal, the way they get around it is to use cacao beans, and people are allowed to have cacao if they get a prescription for it. So they have doctors on staff, one to start and see how it goes, who will give prescriptions, and since Mr. Delacroix had lost his bid for mayor in the last book, he is now her business partner. But moving forward with this business has put a rift between Anya and Win. Anya is not sure if it is the business itself, or the working with his father that has Win so upset. All she knows is that Win is now cold, and has moved on. In fact when she even tries to say at least they can still be friends, he says no, the good thing about being broken up is that he doesn't HAVE to be friends with her. It is clear that Anya still loves him, but he seems to really be over her. And it is easy to understand why she's made her decisions, when you've read the first two books, and know all that she's been through, and fought against. When her sister Natty comes home from camp, it seems that she is not having a good time. She is ahead in school because of how smart she is. But she seems to be rebelling. Almost worse than Anya did. Finally to try to do the best for Natty, especially when her 14 year old sister takes up with a 17 year old boy, Anya sends her away to a boarding school. It is in Boston, where Win is going to school, so Anya asks him to look after her. Meanwhile her nightclub is a success. So much that she must ask Theo, from the chocolate farm she spent time on in the last book, for more help with finding the perfect chocolate/cacao drink recipes, and to also get the amount of cacao they are shipped increased. While the book pretty much ends the way I would have hoped, the right people together, it still is a very emotionally reached ending. Almost all the characters from the prior books are back, even if just a very minute mention. But the poisoner from the first book is back, and other villains. Some returned to make up for what they've done, others to try to finish what they started. Leo gets out of prison, and convinces Anya to let him open up a club in San Francisco, and I love the location, Alcatraz!!
I just love this dystopian world set up. Not that I could imagine living where chocolate was illegal, that would really be a horrible world! But all the world building the author has done, and using landmarks/buildings that are well known enough you can help to picture it in your head. Definitely a good conclusion to the series, although I only gave it a 4 instead of 5 stars on Goodreads because of one aspect of the ending. While it definitely fits the story, it made me sad, and I wish it had been a bit different. If you haven't started yet, go ahead and start the first two now, as this third and final installment will be released the end of October, so only a month to wait! And because I loved the series so much, once again I will share my picture from when I met the author!