Thanks to Kathy at I Am a Reader, and Mary at Bookhounds for hosting this blog hop. Since I have a display up for Banned Book Weeks in my library, I felt it would be good to participate in this as well. Banned Books Week is something the American Library Association (ALA) began to raise awareness of the censorship of books. You can go to their website HERE, to learn more about it. I also really enjoyed this top 10 list of stupid reasons for banning books HERE, and even have it listed on my display in my library. Here's a picture of my display: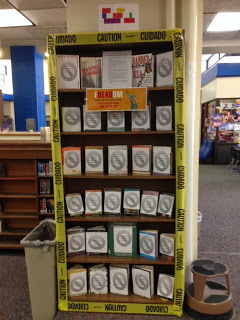 My giveaway will be international, as long as The Book Depository ships to you. Because I read and review mostly YA, all of the books I'm offering for your choices will be YA. You may choose one of the books below if you win.
All you have to do is fill out the rafflecopter, then you can click on the links below that to hop around to other great giveaways!