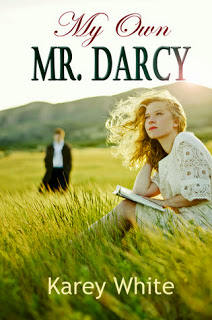 I was so pleased to get to be a part of the blog tour for this book, so thanks to I Am a Reader for allowing me to participate. I hadn't read many of what I call "chick lit" books in awhile, and this seemed like a cute one to read.
The main character is Elizabeth. And she fell in love with Mr. Darcy when she saw Pride and Prejudice when she was in high school. Ever since then she has been searching for her own Mr. Darcy. And in this book it isn't just how he behaves, she actual is looking for someone who looks like the actor who plays him in the 2005 movie. See below: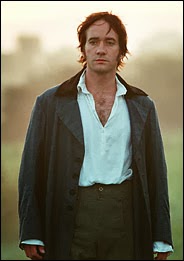 Of course thinking that she was in high school in that year, while I was in my 30's, let's just skip over that part. We get to learn about each of the guys she did date, or have a crush on, etc. throughout the book. But we do learn that she hasn't really dated much since she really and truly began judging all guys based on this. She never gave guys more than one date because she didn't want to string them along when she knew they weren't the one because of these qualifications. This continues until one day her best friend makes her promise to give the latest guy, Chad, a chance. He's a teacher, and he makes her laugh, and she feels very comfortable with him. So she promises to go on at least 10 dates with him. She feels bad because she is sure he can't be the one, but doesn't back out of the deal. Until, well, until she meets Matt. Matt is the owner of a local bookstore, and not only does he look like Elizabeth, Lizzie's Mr. Darcy, but he acts a lot like him as well. Very aloof, plus he comes from a wealthy family, so he is not sure his mother will approve of her. For awhile Elizabeth continues dating both. Until the day one of them says he loves her, then she knows that is who she should be with.
But honestly? Will she choose correctly? Will her "Mr. Darcy" turn out to be like the one in the book, the one that does really love Lizzie? Or is Chad, a normal, down to earth guy, more what will fit in her life?
This was a pretty quick, predictable story. Easy to read, and fun to read. My disappointment only came in something I can't tell you because it would be a spoiler. I definitely recommend this for a fun read. If you're a fan of Austenland, or even the actual Austen books, you will probably have fun with this book.
While you're here, make sure to sign up below for the giveaway!