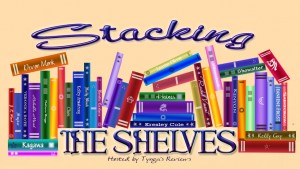 Stacking the Shelves is hosted by Tynga's Reviews. It is a way for us to share the new books we have collected. Haven't done one of these in two weeks as I've had a little bit of a dry spell with books. But I've got a couple to share this week!


From the Library:



As you probably know, I've already read and reviewed BZRK, since I was able to get the sequel from Netgalley. The second one, Darkness Falls, is the 2nd in a series that I've read the first one, and I got the 3rd one at BEA last summer and haven't read yet because I didn't have this one yet.
Purchased:
I'd been seeing some things about the first one, PODs, on other blogs, and saw it wasn't too expensive in the database at the bookstore where I work part time, so I ordered it in. The second one, The Hatfields and The McCoys, was on our bargain tables at the bookstore for like $6 or $7, and I've become a bit obsessed with learning more about that whole feud since the History Channel mini-series.
YA Book Exchange Trade:
Yes, I was able to get an e-galley of this, but when I saw an ARC of it available on the
YA Book Exchange
, I had to try for it in order that I could have a copy of this that matched my ARC of the first one. Plus I will be getting to see the author, Maggie Stiefvater in September when she comes to my town again as part of the publicity tour for this book.
E-galleys:
The first and third books are from Netgalley, the middle one is a title from Edelweiss. Last Night at the Viper Room intrigues me because I was such a huge fan of River Phoenix and it was so sad when he died of a drug overdose. When Cory Monteith recently died, it brought back some of those memories of that time for me. The difference being that I was so young and naive, and things weren't as out in the open back with River, so I didn't realize he was on drugs till then. And everyone knew that Cory had been to rehab and had a problem.
Free for my Kindle App:
All of these I found through a fellow bloggers post on Facebook. The first two sound like pretty good stories, and for free, hey! I've been wanting a smoothie recipe book for awhile, but I'm never sure which one I want, so getting one for free was awesome!
And I have to share the one non-book item I got, although it is a bookmark:
Guess I got more than I thought! How about you? What did you add to your shelves this week? I know that I'm working on straightening up my 2nd bedroom where all my bookshelves are, and once I get that done, I'll do a tour of the shelves for you!
Also, while you're here, check out the following posts: