Waiting on Wednesday is a weekly event hosted by Jill at Breaking the Spine where we spotlight upcoming releases that we're eagerly awaiting. This week I've chosen a book that is a new series by an author that I really enjoy. It's one I tried to get an e-galley on Edelweiss from, but was turned down. 🙁 So now it is on my WOW List. It is Snakeroot (Nightshade Legacy #1) by Andrea Cremer. Here is the blurb from Goodreads.com: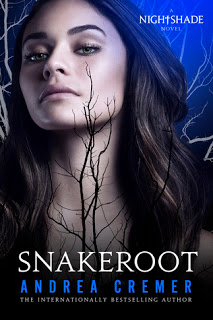 Fans asked for it, and now they've got it! Andrea Cremer is continuing the story she began in in her internationally bestselling trilogy: Nightshade, Wolfsbane and Bloodrose. In this new installment, Bosque Mar haunts the dreams of both Adne and Logan, trying to escape for the Nether, where Calla, Shay and the other Guardians trapped him in the final battle in the War of All Against All. Will he turn Adne to the dark side? Will Logan reclaim his birthright? And will darkness take over our world? In a novel filled with magic, romance and breakneck action, master storytelling Andrea Cremer's newest installment will not disappoint!


I still need to read the 2nd book in the prequel series, it is part of my list for my September is for Sequels challenge, which I plan to post sign ups for in the next week or two. So tell me, what are you eagerly waiting on this week?