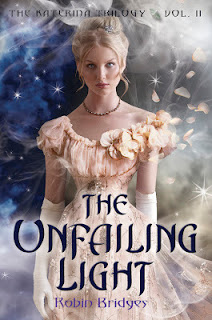 So, it's been awhile since I read the first book in the series, The Gathering Storm, as an e-galley from Netgalley. But when I began this sequel, I was able to pretty much remember what had happened, and the way that the story itself kind of "reviewed" past events was seamless and only enhanced the story. I had to check this book out from the library, because I was able to get an e-galley of the third book from Edelweiss, and I had to read on!
In this story we begin with Katerina excited that she will not have to go back to Smolny Academy, because she will be getting to leave Russia to attend medical school in Switzerland. So for the summer her family is traveling together, and she is with her cousin Dariya, who also will not have to return to school because she will be a lady-in-waiting for the Grand Duchess Miechen. On their travels they go to visit a cave, inside the cave Katiya, as she is called by her friends and family, gets lost, and sucked in to the Graylands, where the evil Konstantin is waiting, and hoping to get loose. When she finally gets back to the real world, she finds out that the Tsar has decided she can't leave to go to medical school because it is not safe for her, as well as he wants her close by in case he needs her necromancer skills as well. So back she goes to school, and not happily. She still feels for the Tsar's son George Alexandrovich, but knows that since she is of the dark court and he is of the light court they cannot be together. Something his mother has made abundantly clear in her dealings with Katiya. Plus she is still stuck with the connection with the evil Prince Danilo who she was tricked into being part of his blood ritual, and who wants to marry her. There are times when the connection comes in handy. While the Empress has put a spell on the school to protect those within, unfortunately there is a ghost loose in the school, and Katiya is unable to do much about it, because the spell also keeps dark magic from happening within the school. All the time there, students get irritable and sick, partly because of the ghost. Alix, one of her new roommates that we met in the last book, also seems to have a bit of secret. Getting so ill at one point she is taken home from school. While Katiya must miss fabulous balls because the Empress wants her to stay there, she is finally allowed to go home for Christmas break. She has learned from her brother that George may be involved in some dark magic. Danilo also says this is true. But she is unable to learn more as much as she tries. When everyone is back at school from the break, there is a new chef. One that Katiya has heard great things about his food. And everyone now seems to be in a great mood, almost unnaturally great. Only Katiya seems to figure out that it has something to do with the food, and the cook is actually using his Fae powers to help everyone not feel the effects of the ghost. Of course now Katiya must figure out the secrets, why is Alix so secretive, is the cook really there to help? And finally, is her beloved George safe, or is he going to the dark court just to win her over in what he thinks she needs for them to be together? In this book we still have the vampires or blood drinkers, the dead that Katiya has brought back, and now, werewolves.
Once again a great adventure of a story. And I'm so glad that I'm getting to start the 3rd book right after the 2nd!