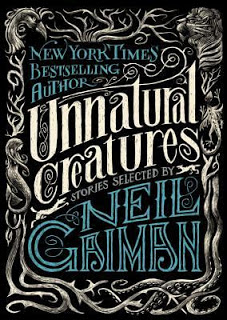 Thanks to HarperCollins Children's Books and Epic Reads, I won this ARC from a contest in the Shelf Awareness email newsletter. I haven't read a lot of Neil Gaiman books, American Gods was one that I read and did really like though. So I knew that I was interested in this. The really cool thing about this book is that when people purchase a copy of it they will be supporting a nonprofit organization called 826DC that supports students with their writing skills, as well as helping teachers inspire their students to write. As a middle school teacher, I think this a great organization.
I went into this book expecting a bunch of new short stories about, as the title says, unnatural creatures. And it is about those things, but most of the stories are not new. One of the stories even dates clear back to 1885! Now, as will most often happen, there were some stories I liked, and others that were ehh, and some that just were kind of confusing. The stories started out pretty short, and seemed to get a little longer as the book went on. I'll talk about a few of my favorites.
I have to list the story that Neil Gaiman wrote first, Sunbird. It's basically a story about the phoenix. Kinda like Fawkes in the Harry Potter stories. The story is about a very exclusive group called the Epicurean Club. Their main goal is to try to eat as many rare and outlandish things as they can. Supposedly they've had unicorn, fruit bat, flash frozen mammoth, giant sloth, giant squid, and in the twenties they even had man on the menu. So this current group of members is trying to find something else new that they haven't eaten. One member brought up the idea of the Suntown Sunbird. Most of the members have never heard of it, or believe it to be imaginary. Which is when the fact that they'd had unicorn is brought up. Eventually they decide to go capture it, in Egypt, and try it. The twist in the story is pretty good! I won't give it away. And there was one point in the story that immediately made me smile. When they ate the mammoth, one member, Jackie Newhouse, says that all he could think of was Kansas City barbecue sauce and what the ribs on the mammoth would have tasted like if they'd been fresh. Have I mentioned that I live in Kansas City? And that we are pretty well known for our barbecue?
The next story that I really enjoyed was called The Cockatoucan; or, Great-Aunt Willoughby by E. Nesbit. This is about a little girl that is not happy with the fact that she has to go visit her Great-Aunt Willoughby. Only she lucks out when her nanny/nursemaid takes the wrong bus and they end up in a town where the buses don't ever return, and so they are stuck. Once there the king asks for her help with the cockatoucan, who every time it laughs, something gets messed up. In fact, immediately when they get there, the cockatoucan laughs and Pridmore, the nursemaid is turned into a type of vending machine, that when you push the button, dispenses "advice" or the little sayings she would always spout to the little girl, Matilda. Matilda all of a sudden becomes very clever when the bird laughs, and so decides to stay and try to help the King get his kingdom back. As good as this story is, can you imagine that it was written back in 1900? Wow!
The last story I'm going to mention is called The Compleat Werewolf by Anthony Boucher. It was written in 1942, which you can tell from reading it, as it is about Germany, and all that was going on during that time period. Also, it is about a werewolf. Only the way this type of werewolf works is that you have to say certain words, and he will change into a wolf. And in order to return to a human, another word has to be said. The problem? You can't say the word as a wolf. So you need someone you trust to say it for you. This works mostly for the main character, Wolfe Wolf. Yes, that is really his name. When he changes at first he goes out into nature, then he gets bored and misses people, so he goes back into town. While there he helps a little boy home, and even stops a robbery. But when he gets back late to where the man who is helping him is supposed to be waiting, and he can't get in, he decides to go to his classroom, see he is a German professor, and scratch the name on the chalkboard so that one of his students will say it. They do, and he is human again, but unfortunately naked. This leads to losing his job. He's been really unhappy because he proposed to the woman he loved, a former student named Gloria. She is now an actress, and has told him he is not someone she could ever love like that. But now she's coming back and Wolfe is so excited to see her, and thinks that showing her he is a werewolf will definitely impress her enough to make her give him a chance. I'll stop there, and let you read the rest!
There are many other stories, 13 others. And there are a few that this is their first time being published. So there are newer stories and older stories. And some that it is maybe a stretch to say it is an unnatural creature, or maybe you could say it is almost just alluded to, and not really easy to get.
I'll be passing this ARC on with the ARCycling project. Now, I just have to remember to try to log on and try to get my own recycled ARC one of these Sundays.