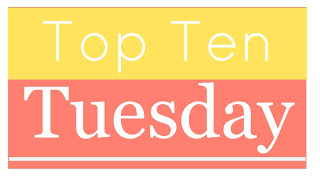 This is hosted by The Broke and the Bookish. This week's top ten them is "auto-buy" authors. Which means authors that you always buy their books when they come out because you know that you'll enjoy it no matter what, if it's in a series you've read, or not. My first few were at one point, and still kind of are, but I'll give you the reasons why not completely anymore.
Stephen King

– Up until very recently, I automatically bought all of his books, and in hardcover. At first I even bought The Dark Tower series. And until the new ones started coming out, I had read all of them. But since it has been so long since I read those, and they weren't my favorite to start with, I haven't read on, although I think I've bought at least one more of them. I also didn't buy the one that was about the JFK shooting. Not sure it really is my kind of story. I also did buy The Colorado Kid, but have yet to read it. Although loving the Haven series on the SyFy channel, I do think I need to read it!
Dean Koontz – Other than his Frankenstein series, I do buy and read all of his books. For awhile it was all in hardcover, until I began having financial issues, and so now I'm back to waiting for the paperback, unless my mom buys the hardcover at Costco. Although, some of his books do seem to be getting a bit formulaic, and while I like that formula, I miss some of his really original ones like Twilight Eyes, Watchers, and Strangers.
Robert McCammon – Other than the Speaks the Nightbird series, which I have yet to read, I used to buy all of his books as they came out. Has he had any other new ones?

Cara Lynn Shultz

– She only has 2 out so far, Spellbound and Spellcaster, but I know she's working on a 3rd, and I'm sure I'll love it too! I just love the way she writes her characters. The sense of humor is so what I have with my friends and family, that reading it is like hanging out with people I know.

William Sleator

– I don't believe he will have any new ones coming out, but I do love all his books! The out there stories, just really are kind of wicked for kids, and fun to read! Examples of his books are: Test, Rewind, and Hell Phone.

Diane Mott Davidson

– I'm actually not a huge mystery fan, but I started the first one in this series and have loved them all. She writes the Goldy Bear Culinary mysteries. I love the recipes in them, but they are way too fancy for me to ever try on my own. But I also like Goldy's character, and her husband, and all the other people who are in the books. And while there is a formula to the mysteries, it seems like she comes up with more unique murders and for all of these in this small Colorado town? I think it might not be a good place to live.

Maggie Stiefvater

– Although I have not read her Faerie series, I have read almost all of her other books. And even when they didn't necessarily grab me from the blurb on the back, or the idea behind the story, once I picked them up, I remembered why I was such a huge fan. She is an awesome author. It took me a long time to read The Scorpio Races, now I love it!

Stephenie Meyer

– Yes, as I have read all of her books, Twilight series and The Host, I guess probably any book she put out I would have to buy and read.

Margaret Peterson Haddix

– I love her Among the Hidden series, as well as the new The Missing series. Pretty much with any of her books I know I'm going to like them.

Robin Cook

– Now, I actually haven't read many of his in awhile, but I have a ton of them sitting on my TBR shelf. For awhile when I started working at a bookstore, I would order in one or two at a time that I hadn't read, or find them at garage sales, or used book stores. More medical formula type stories, but usually always really good. Examples are Coma, Contagion, and Invasion.
Now, there are others that I have tons of books, plus lots of TBRs – John Saul, Michael Palmer, or ones that I stopped reading because the author died – V.C. Andrews, Michael Crichton. And there are other people that I love one series, but not all – Charlaine Harris: Sookie Stackhouse, Nancy Holder: Buffy the Vampire Slayer and now Teen Wolf. But the list could go on forever. This top 10 was harder than I thought! What about you, can you come up with a top 10 Auto-Buy author list?