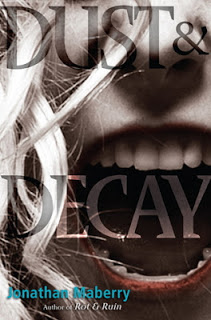 I loved Rot and Ruin when I read it a year ago to help pick it for the current Gateway Award nominees. So last summer when I was at BEA and I got to meet Jonathan Maberry, I got the 2nd book, Dust and Decay, autographed by him. I had planned to get to it during my September is for Sequels month, but didn't quite make it. And so now, here I am finally getting it read. When I first picked it up, I was excited and ready for some zombies since The Walking Dead was on a break till next year. I was a bit worried about how much time it would take to read though, since it is a very thick book, over 500 pages!! But, as happened with the first one, I was sucked in, and couldn't wait to pick it up any time I had to put it down, not to mention it was really hard to put it down once I picked it up! Now I have to go find the 1.5 that I downloaded, In the Land of the Dead, to find out what happened in between the first one and this one. And also the 0.5 that talks about what happened before the first book, called First Night Memories. And before I go on to the third book, Flesh and Bone, I'll have to read 2.5: Dead and Gone. I won an autographed copy of #3 when I helped come up with the title for Tooth and Nail on a Facebook comment contest.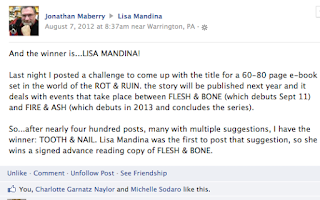 In this story Tom and Benny have decided to move on and try to find the jet that Benny and Nix had seen when they last went and destroyed Gameland. Gameland was a horrible place run by Charlie Pinkeye where they brought teenagers and other kids in to fight zombies for entertainment. They thought they'd killed Charlie in the last book. But there have been some things going on that make Tom doubt it. Tom has tried and tried to get their little town to work on some kind of militia/police force to help protect their town without him since he is leaving. They are also taking Lilah with them, as she is not really comfortable sitting in the town doing nothing. Their trip is a disaster almost from the beginning. First there is a run-in with a rhino and a mob of zombies. Then they run into Preacher Jack. Who Tom thought was a good guy, but turns out to not seem to be such a good one after their first meeting. As they head toward their first stop, Chong, who is only along for the first part of the trip, takes off. Feeling as if it is his fault they had all the issues with the first group of zombies. When they reach the gas station, they find that the people who are normally there are gone. Tom leaves Benny, Nix, and Lilah there, while he goes to try to find Chong. Chong of course gets caught, by people working for White Bear, getting the Gameland going again. We find out that White Bear is Charlie's brother. And he is after revenge for his brother's death. Along the way to find Chong, Tom runs into some old friends, one is Sally Two-Knives, and she has been hurt. But she knows where Chong has been taken. Meanwhile, back at the gas station, the safety things that Benny and Nix and Lilah put up, somehow get taken down, and without any warning, they are surrounded by a swarm of zombies. In trying to fight their way out, Benny and Nix get separated from Lilah. So now, almost everyone must find a way to get to the others safely, with their own dangers after them. It all ends up in a big finale at Gameland. A good one, with some surprising results, not all happy. But I won't spoil anymore for you. You have to read it and find out!
If I could, I'd just read all the way through all the rest of the books that I have now, including the short e-books. But, I have Netgalley books to get read before they expire. So maybe when the 4th book in the series, Fire and Ash, comes out, I'll sit down and read the rest of the series all at once. Anyone who loves The Walking Dead, or zombies, will love this series. Go check it out if you haven't yet!