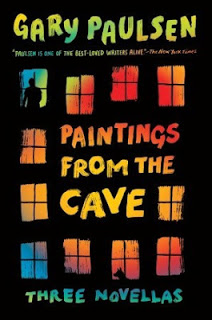 I actually had never read a book by Gary Paulsen until I began to read for the different award lists. I know, I know, how many people grew up reading Hatchet? Not me. But I have to admit he is a very good writer. Normally they're not my type of books, but they're good. This book is actually three novellas. Very short stories. The whole book is only 161 pages. So, a good choice for low readers at the middle school age for this award.
The first story, Man of the Iron Heads, is very reminiscent of another book I read for awards, If I Grow Up, by Todd Strasser. In this story our main character is Jake. He lives in a ghetto basically. In his building, there is a drug/gang leader, that Jake has learned to stay away from. He lives with his aunt, because his parents, mother anyway, left when he was like 3. But his aunt never wanted a kid, and gets drunk I guess, so he stays on his friend Layla's couch when her mom isn't home. Layla is pregnant, Jake says you have to keep moving, or they'll catch you, and Layla got caught. And when he can't be there, he hides in an abandoned building and watches the people across the fence in the nice, fancy apartments. In one he sees a man with a bunch of what look like iron heads. He watches the guy for several days. Until one day the guy sees him. He invites Jake over for pizza and to see the heads. Jake is leery at first. He's heard about men who "invite boys over for food". But this guy, Bill, isn't like that. He just wants to sculpt Jake's head. And soon Jake is also learning how to sculpt. But things just don't get magically better. The gang leader, Blade, wants Jake. And when the lackey he sends doesn't get him, they kidnap Layla. This turns out really bad. And, I won't give away the end, just know it isn't all roses. So the spark of kindness and goodness is there, but it's a realistic ending.
The second story is called Jo-Jo the Dog Faced Girl, which is a play on a circus freak from a while back. Jo lives in a trailer park, with abusive parents. A mother who hits, and a father who, well it's never said what exactly he does, but you can figure it out. Jo learns to get to her room when they're not there and push the dresser in front of the door. One by one she finds three dogs that she takes in. They protect her and she loves them. She is made fun of at school because of her being poor. And she has no friends. Then one day the dogs lead a girl named Rose to their spot in the forest. Reluctantly, but because the dogs seem to trust her, Jo becomes friends with Rose. And teaches Rose how to "see" and "feel" like the dogs. Rose is sick, she has leukemia. And it seems that the dogs could sense it. Jo is glad to have her a friend, even knowing this friendship won't last forever.
And the third and final story is Erik's Rules. The main character is Jamie, and he and his brother Erik are homeless. Their grandfather took them away from their parents when he saw how they lived. But then one day, their grandfather got sick and had to go to an old folk's home. And they could no longer live there or social services would probably have come and separated them. So they tried going home, and that wasn't a lot better, so Erik stole a car and they'd been living in that. Once in awhile Erik would have a girlfriend, and they'd live with her. Every day while Erik worked, Jamie would go to the dog park, where he liked to draw the dog. There was this one guy who came every day it seemed, but often with different dogs. They soon find out he works at a dog shelter. And, Greg, the guy from the shelter, wants to offer him a job drawing the dogs to help get them homes on the website. Soon Greg learns that they're homeless, and why they don't have an apartment. And he has a friend who just went away in the army, who they can stay there until they get some money saved. While this story kind of leaves off with things in this kind of settled pattern, I would say it is the happiest ending of all of the stories.
Not sure if this is the best of all the books. It is a good, quick, but hard to read book. So it won't get my highest recommendation, but it is good.