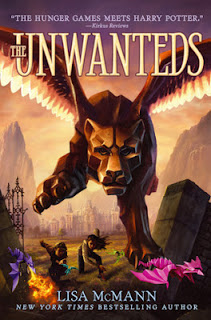 Okay, I must admit that once again, I was bad, I pre-judged a book by its cover. And that was this book. I had been a fan of the author with her teen books, The Wake Series, and Cryer's Cross. But, the cover on this was just too fantasy for me. Honestly, I am not the biggest fan of fantasy. I love the Harry Potter series, yes, books and movies. And maybe The Magickers series would also be considered fantasy. But usually, they're just not my type. And so the cover did scare me off. Not sure I even took the time to pick it up and read the synopsis because of that. I know, horrible aren't I? But, fortunately for me, this book is on the list to be a possible nominee for the Truman award for the school year of 2013-2014, and since I'm helping them narrow the list down, I HAD to read it. And I did, and now must apologize profusely for ever thinking I wouldn't like it. In fact, while some people on Goodreads are saying the blurb by Kirkus Reviews, "The Hunger Games meets Harry Potter" is way out there, I would have to say that yes, in a way that fits it perfectly. You do have this dystopian world, similar to The Hunger Games, where children are "selected" as "unwanteds" and forced to go and die. Only according to this book, no chance to survive, they are sent to the Lake of Boiling Oil to die.
However, it turns out, that's not the whole truth. They do get dropped off at the Death Farm, where Mr. Today is in charge of "taking care" of the unwanteds. But rather than put them to death, Mr. Today has created a magical world, one that can hold as many people as it needs to. A world different from Quill, where the people have come from. In this world, creativity is encouraged. And once the kids reach a certain level, they are started in magical training. Part of the purpose of the magic is to be able to defend themselves in case the Quillitary ever comes to fight them. If Quill were to find out of their existence, that could happen at any time.
The main character is Alex, who has a twin brother, Aaron. While Alex is unwanted, for his artistic tendencies, his brother Aaron is Wanted. Wanted is the best thing to be. Other people are kept in Quill, the necessaries, and they are kept to serve the Wanteds. Alex gets to Artime, the magical world, and soon thinks that he needs to try to contact his brother Aaron so that he can come to this wondrous new world. But it turns out that Aaron isn't quite as similar to his twin Alex, as he may have thought. There are other people in Artime that don't seem to quite fit in, they were destined to be Wanteds as far as they could have foreseen. Until they were reported for one small thing. Samheed and Will Blair are the two that we are not quite sure of their intentions throughout the story. Sam seems to be a bad guy, although at times he and Alex seem to get back to a more friendly relationship. Then we have Lani, who was sent at an earlier age than normal. Not to mention that her father was a Governor, one of the leaders of Quill. So her being unwanted is really surprising.
All in all I think this was a great story, that I think my students would love. So glad I gave it a chance for this. Now, maybe I should give some other middle grade books by authors I like a chance? Like The Spindlers by Lauren Oliver? She's here in Kansas City in 2 days, and while I really want to meet her, I hate that I have to pay for that book. But maybe I should give in and go!