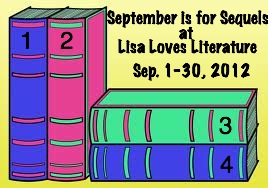 Well, I almost, but not quite made my goal of 8 books. I didn't finish my 8th book until yesterday, the 1st of October, so technically, it doesn't count. I'm kind of a stickler at times. BUT, I did still go over what I'd set for the minimum for the challenge, 4, so I'm happy about that. I'd also like to thank all of the people who participated! I'm hoping to do this again next year. Although September is always going to be a hard month for me as long as I'm a teacher. Here's to hoping that by next fall I'll have a library job so that I don't have to spend time grading when I want to be reading! Here are the list of books I planned to read:
One of our Thursdays is Missing by Jasper Fforde

Dust & Decay by Jonathan Maberry

Insurgent by Veronica Roth

Shadows by Ilsa J. Bick

City of Lost Souls by Cassandra Clare

Deadly Little Lies by Laurie Stolarz

Silence by Becca Fitzpatrick

Ashen Winter by Mike Mullin
And here are the list of books I actually ended up reading (only two were from my planned list):
And finally, because I know it is on the minds of all of you who participated and entered the contest, the winner of the $20 gift card to Amazon is………….. (drum roll):
Thanks again to all who participated, and I sure hope you'll come back next September and bring some other friends with you to join in! I had a lot of fun sponsoring this challenge, and wish I'd done a lot more interaction with those participating. Hopefully next year I can. And, I learned how to make a button! That was really exciting!