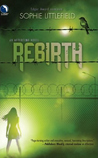 Rebirth by Sophie Littlefield
My rating: 3 of 5 stars
This book kept up with the first in the series. Although I found it a little slow to get into. There was a big event at the beginning that got you hooked though, you found out that the library Cass had first arrived at in the first book had been burned and people killed by the Rebuilders. Which meant that Dor's daughter had been kidnapped. Cass thinks she could just stay at the Box with Smoke, but Smoke is so angry about the Rebuilders that he goes to infiltrate them for Dor. It's basically a suicide mission. And Dor is going to go too, it is his daughter. Cass wants to go as well to find Smoke, although she feels that Smoke has betrayed her and her daughter Ruthie by just leaving like that. Cass really just wants to find a safe, normal place for her daughter Ruthie to have a chance to grow. So after a trip filled with danger to the Rebuilders, Cass feels she might have found a good place. As an Outlier, someone who has the immunity to the disease that has caused the zombies, she is highly valued, and would live a life of "comfort" in the Rebuilders' colony. However, it turns out all is not as great as it seems. What the scientist in charge of the rebuilders wants the Outliers for is a bit creepy, and Smoke has gotten himself into a situation that must be saved, and then they do find Dor's daughter Sammi, and she also is in a precarious situation, although being Dor's daughter, she feels she can take care of herself. It definitely leaves off on a huge cliffhanger, and I know the 3rd book is out. I may have to actually buy that one, as I got the other two as an ARC and the first came with the 2nd ARC to introduce to the series. I got both from the Barnes and Noble store I work at.

Personally, some of Cass's decisions I don't quite know that I would be like that, so at times it is hard for me to connect to her. But the story is one that is interesting and keeps you reading on.
I just think it'd be nice to have a little more zombies in it. Although, we do learn that the zombies seem to be evolving. So that could make for some interesting events in the 3rd book.
To count this in my A-Z Challenge I'll have to go with it as the "L" book for the author's last name. It also counts on my TBR Pile Challenge.