Okay, first, I want to let everyone know that my opinions on this may not be yours. And I appreciate that, I am the first person to say everyone should be allowed to have and express their own opinion. I just hope that if you are offended in any way by what I say, you will choose not to criticize me or tell me I'm wrong. I definitely don't mind hearing what you think if you've read this book though, even if your opinion is completely opposite of mine! I'm only choosing to review this on my blog, as opposed to Goodreads, because I feel that my followers are all readers who feel the same as I do about opinions, and I know there are some people on Goodreads who don't value or respect others' opinions. So here goes.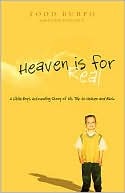 I first picked this book up one night last month when I was standing bored on a very slow night at the bookstore where I work. I was working at the cash register, where you're kind of stuck there when you work, especially when you're the only one working. We're not really supposed to read, but it was a week or so after I'd put my dog Sydney to sleep, and it was hard for me to not have something to occupy my mind without getting all teary eyed. I picked this up, and was sucked right in.
The story is very easy to read, in that it's told very straight forward, and in an every day person way. It is told by Todd Burpo, who is a pastor, but how he learned this was from his 4 year old son named Colton. When Colton was almost 4, he had been to the hospital for a burst appendix. The story of how that all happened is scary in itself, of how the doctors kept saying there was nothing they could do, until they got him somewhere a different doctor realized what had happened. Scary to think it had burst, and then for a while he'd felt better, so his family had thought it was just a flu bug and gone on vacation. Todd tells us how he had gone through so many health scares right before all this just for himself, and how Colton being this sick had been the last straw. How he'd felt like Paster Job. He'd railed at God when he was alone in the chapel at the church. Then calmed himself down and gone out to be there for his family. A year later, after all had been over and seemed to be fine, Colton spoke up with a very unusual statement. He remembered the hospital where he'd been because that was where the angels had sung to him. And he'd sat on Jesus's lap, and he'd seen relatives.
Now, you'd be thinking, as many naysayers on Goodreads said in their reviews, of course Colton had heard all this stuff somewhere, his dad was a preacher! But some of the stuff was very remote, and it would be interesting to know how he'd heard it. And what was kind of the kicker, and really hard for me to read after recent tragedies in my own family, was that he met a girl who claimed to be his sister. And it turns out his parents had a girl that was miscarried before he was born. Something he would not have known about.
Okay, I don't know if this convinces me about heaven, or worshiping God, which is currently the issue I have. But it does give hope. I currently don't attend church, or know what or how I believe. I grew up at a Lutheran school from 1st through 8th grade. Every other weekend I was either there, or with my dad and stepmom at a Catholic church. So my mind is pretty much trained that there is a god. I just have felt myself a lot like Job, everything going wrong, seeming like my life is pointless. I even tried going back to church two years ago, hoping to be inspired or something. At first, I fell in love with my brother's church, and if I do go back, I'll go back there, but nothing came about, no feeling of peacefullness, nothing that helped me. So I'm still in a state of wondering. I think this is a good book to read though. I liked what Colton had to say. I liked that it even seemed like God/Jesus had a bit of a sense of a humor, that is what I'm kind of looking for. I liked how it seemed heaven would be. Some people who didn't like it commented on how the "wings" was ridiculous. But what do we know? If there is a heaven, we don't know.
I guess I just have to say this was an interesting book that made me think, and I think could give hope to my brother and sister in law in their loss. I will probably pass it on to them at some point.
I'd love to hear any thoughts you have if you've read this.