Last post of 2011! Wow, so glad this year is over, the beginning pretty much sucked, the end has been better, and hoping that 2012 turns out really good, especially if it is the last year we have according to all those people who say the end of the world is coming. 🙂
So, recently I was trying to figure out exactly what was the last Dean Koontz book I read. A couple years ago I just didn't have the money to keep buying his books when they came out in hardcover, and I can't quite remember when I stopped. So I got online and looked up a list of his boks in the order they were published. Well, I think I found my answer, but I also found 2 books that have only been available as e-books, and they were kind of companion novels to the last book, What the Night Knows, and the newest one that came out this week, 77 Shadow Street. Since they were both short, I'll include them both in one blog post.
First,
Darkness Under the Sun
, was written I think after the book it goes with,
What the Night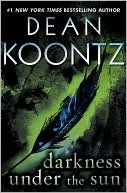 Knows
. The main character in this is a boy named Howie. He is disfigured because his father tried to burn him over a custody dispute. Howie goes to the top of a building to watch the town around him without having to be a part of it. The day we read about at the start of this novella he is not alone when he gets up there. There is a man, a very tall, also pretty messed up looking man. This man is Alton Turner Blackwood, the killer from the book this goes with. Howie and this man become friends, so much that Howie invites him to come live in the room above their garage. The man says he has to think about it, but asks Howie to bring him pictures of the house, as well as his mother and sister. Howie brings the pictures and then leaves. When he comes back, the man is gone, the pictures have been torn, and Howie suddenly knows what he's done. He runs home to find the killer getting ready to attack his family. And he is able to scare him off. But it turns out he's now given the killer an idea of how he can kill and earn the fame he wants. Later on he sends a letter to Howie telling him this. Good story, not sure if it really leads me into wanting to read the book. In fact, it has the first chapter or so at the end, and now I'm not sure if I've read the whole book, or if I just read these two chapters at the back of whatever book came before it. It was a very Dean Koontz story, exactly what you'd expect.
The 2nd story,
The Moonlit Mind
, was available before the book it goes with was released this past Tuesday. And let me say, I REALLY enjoyed this one.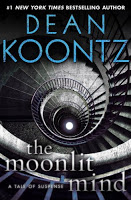 It reminded me of some of the earlier works of Koontz that I really enjoyed. Like
Twilight Eyes, Strangers, Watchers
(all by Koontz), as well as
Anouther Faust
by Daniel Nayeri. Just something about it really was the type of book I liked. And now I'm really eager to read
77 Shadow Street
. This novella is also with a young main character, a 12 year old boy named Crispin who has lived on the streets since he was 9. He ran away from his mother and step-father's house after his younger sister and brother disappeared. The way they disappeared was very mysterious. It seems as if there is a cult or satanic rituals going on in this house. And very strangely there is a miniature replica of the mansion that Crispin is really intrigued by. And it turns out that replica has a connection to all that is going on. Crispin has also made friends with the "Phantom of Broderick's" or as she calls herself, Amity. Amity works and lives at Broderick's department store. And Crispin, and his dog Harley, named after his younger brother, stay there nights as well. But Crispin can't stay in any one place too long, for soon the people from his past will come looking for him, and have caught up to him in the past. Amity also has a scary past. And together they will try to overcome them. This is a great lead in to the book, although the first few chapters of the book at the end of this novella, don't quite match the tone of the novella, but hopefully it will get back to what I liked about this.