Wow, I can't believe how long it has been since I blogged! School is so busy, 3 jobs are crazy! I also am thinking I may not be able to read the nominees for next year's Gateway. I am going to get a friend, and maybe some students to help me. But I'm getting an opportunity to help someone who is opening a new publishing company, and that is really something that I think will be a help to me in the future, something to put on a resume, and something I really want to do. I've got a ton of books written for my hazards posts since I haven't done one since August. So, again, I'm going to divide them into different categories. Today's category is Teen and Young Adult, 3 books I'm going to share.
First is Following Christopher Creed by Carol Plum-Ucci. I read the first one a ye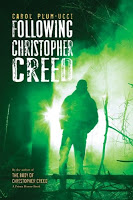 ar or two ago, and really enjoyed it. I didn't know there was going to be a sequel until I saw it on the shelf at the store. In this story a body was found in Steepleton and the main character Torey posts it on his blog. A college reporter hops a plane to get there and try to get the story to launch his career, while Christopher's younger brother just wants to find some answers.
The 2nd book is
The Eleventh Plague
by Jeff Hirsch. This is kind of a
futuristic/dystopian/science fiction story. There's been war after war in America. People not wiped out by that are dying from illnesses such as strains of the flu. The main character is 15 year old Stephen. He's traveling across America with his dad and ex-marine grandfather. His grandfather dies, and his father is in an accident and so he must find somewhere to go and he ends up in a town called Settler's Landing, a town that seems so perfect for this afterworld. He falls in love with the town outcast, and it turns out the "elders" of the town want to remake their town back to the way things were before the collapse.
Third is a book I've seen on the shelves for awhile, but haven't really picked it up until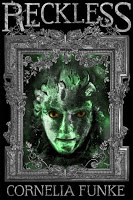 recently. And it sounds interesting. It's called
Reckless
by Cornelia Funke. The main character's name is Jacob Reckless. He is able to go to a hidden world through a portal in his father's study and has gone for years, finding lost items and solving quests. One day his younger brother follows him through the portal, and he is attacked and infected. When he comes back Jacob must figure out a way to save him before he becomes a monster from the other world.