Okay, the last part of this volume of the books I see when I work at the store. Just in time too, as I work again tonight! And as it is a Tuesday and there will be new books out, I'm sure I'll find even more! These books are mostly adult fiction or maybe some nonfiction that I've seen and am interested in. So here goes.

First is called The First Days: As the World Dies by Rhiannon Frater. This is another zo
mbie book, I can't believe how much I'm getting into these types of books. From what I read, these are already an internet sensation, I guess it will be a trilogy. The two main characters are Jenni and Katie, who become a zombie fighting team shortly after they get up the first morning in this book. They must rescue Jenni's stepson from a camp. They finally find refuge in a tiny Texas town, where both women find attraction to the leader. Should be an interesting read. The cover draws you in, and it is a pretty big book, so lots of detail I'm guessing.
Second is Heaven's Shadow by David S. Goyer and Michael Cassutt. This is a space sc
i-fi book. It's about a giant object heading towards our sun. Two spaceships are sent from Earth to try to reach it and explore it. Both want to reach it first, but when they do, they find it is from an intelligent race trying to communicate with Earth, and they need our help. I'm often hesitant about space sci-fi, due to the fact that I'm not a big Star Wars fan, it's okay, and I do like the first two series of Star Trek, but not all of them. I like it to be related to the Earth still, and this sounds as if it will be.
Third is Dark Rising by Greig Beck. I guess from what I find online, this is a second in a
series, but as I read about the first, I don't know that I'm as interested in that storyline. It is also a sci-fi book. In this a large amount of gamma radiation is detected under Iran and everyone is worried it is a weapon. It turns out there is a lab beneath this area, but nothing in it, because there is now a black hole there. There's a creature in a dark cave, soldiers bodies are being drained of fluids, Iran is preparing for the return of a prophet, Israel is threatening nuclear war. Some good things and bad things in this.
Fourth is To Die For: A Novel of Anne Boleyn by Sandra Byrd. I am, as I have said before,
intrigued with the whole Anne Boleyn story, ever since the movie The Other Boleyn Sister came out and then I read the book, and then I watched the Tudors and was hooked. This is a novel, but historical fiction, so I enjoy reading that. It is actually the story of Meg Wyatt who is supposedly Anne's best friend since childhood. She of course follows Anne to the court and is one of her maids. Meg also in this story comes close to worrying about her life and her true love at Anne's downfall. The facts are that their families did grow up near by, and that Meg's brother did have a romance with Anne, and when Anne was executed, Meg and her sister did tend her, and Anne gave her jeweled prayer book to Meg.
Fifth is a book called My Boyfriend Wrote a Book About Me by Hilary Winston. Now, I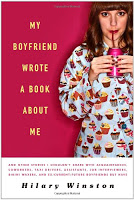 feel like I've already wrote about this, but if I did, I didn't mark it in my notebook that I try to keep track of these books in. The author of this is actually a TV writer, and this is an autobiographical look at her dating life and other adventures. She finds out that her ex has written a novel based on their relationship where she is the "fat-assed girlfriend". This sounds like a really funny book, it is humor, not a novel, but a fun biography type book.
And finally is i am DACHSHUND by Mavis Duke Hinton. I think this is a print on de
mand book, not sure if it is a kid's book though. But it is a story about the dachshund. Which I love dachshunds as you can tell from the top of my blog page. Which reminds me, I need to add a picture of my new dachshund puppy somehow. This is the dachshund's story, his name is Shadow I think, and his point of view of the world around him. Sounds cute to me, but that's because I love all things dachshund.